CURRENT NEWSLETTER – 02.07.20
Bill Prioritizes Drinking Water; WV Rivers Coalition News; Minden Article; Tree Sitters and much more
See entire newsletter
HERE
---
GRWA would like to thank everyone involved in making our Watershed Celebration a huge success! Thanks to our event partners, Lost World Caverns and the WV Cave Conservancy.
Thanks to ALL our sponsors and businesses that donated silent auction items:
Seneca Trail Animal Hospital- Gift certificate
Greenbrier Valley Theater – Show tickets
Edith's- Goodie bag
Bella- Turkish platter
Studio 40 – Rusty Wheel Pottery vase
High Country- Necklace
Wandering Bird- Clock
Yarid's – Girft Certificate/ Vera Bradley and Brighton items
Jim Lakiotes – Wooden ware
Patina -Duck themed items and pottery jug
Food and Friends- Gift certificate
Corn & Flour- Gift certificate
Love Child- Children's puzzles
The Local- Gift basket
Show Your Colors- WV Mountaineer License Plate
Harmony Ridge- WV State platter
Judith Lewis- wood framed painting
Walmart- Gift card
Also, thanks to Stuart's Smokehouse, Uncle Dons Band, WV Rivers Coalition, U.S. Forest Service and volunteers that helped make it a great event!
Pictured: Johnny Walkup, GRWA President; Laura Baker, GRWA volunteer and Deni Elliott, GRWA board member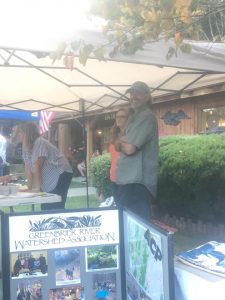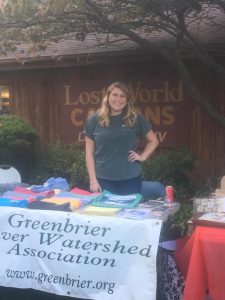 ---
---
Panther Ridge Wildlife Habitat Enhancement Project Raises Concerns
The attached Panther Ridge Wildlife Habitat Enhancement Project includes a timber project north of Blue Bend near Auto with many tributary streams on the project area that flow into the Greenbrier River. The project is approximately 7 miles east of Falling Springs on County Route 11 with the following project boundaries: Greenbrier River to the west, Little Creek to the east, Hopkins Knob to the south, and Spice Run
For Full Assessment and Details
---
THANK YOU TO ALL OUR VOLUNTEERS FOR MAKING THE GREENBRIER RIVER SHINE!
Our volunteers worked hard to help clean up the Fort Spring Boat Launch and Anvil Rock swimming area on Sunday, April 14.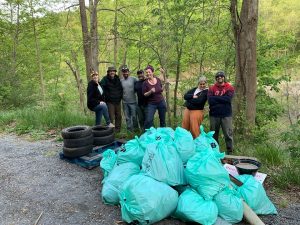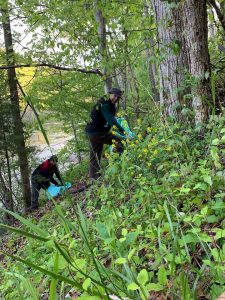 If you would like to make another area shine in our watershed, give us a call at 304-647-4792 to let us know location and arrange pick up of bags and gloves.
---
Action Alert: Tell WVDEP to Hold the MountainValleyPipeline Accountable for Water Quality Violations – WV Rivers Coalition
---
Congratulations to all our Racers for The 33rd Great Greenbrier River Race on April 27, 2019

The 33rd annual Great Greenbrier River Race was held the last Saturday in April each year in Marlinton, WV. With great prizes, live music and good food,the event attracts a loyal following of racers and fans.
Originally a team event with four members, canoeists, bicyclist and runner, the race has now attracted many people who do it solo. But there is still room for the whole family or the family dog on a team! Kayaks and canoes are both encouraged and the many categories encourage prizes for many racers.
2019 Race Results HERE

Thank you to our 2019 Sponsors!

---
Tracking Water Policy
---
March 6, 2018 E -day! at the Capitol – Charleston, WV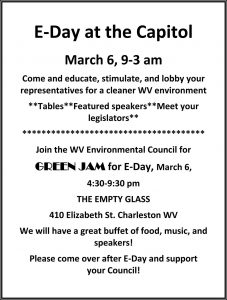 ---
Double Crossed Gatherings in Pocahontas & Summers Counties
On Saturday, September 16th, residents from all counties of the Greenbrier River Watershed and beyond met to express their concerns about the two 42-inch pipelines proposed by shale gas developers for the Greenbrier River and tributaries. Two events, called "Double-Crossed," were held. Gathering at Clover Lick, in Pocahontas County and at Pence Springs, in Summers County at the places proposed for pipeline crossings of the main stem of the river, participants came face to face with what may have only been lines on a map before.
Most of the assembled citizens had commented to federal and state regulators expressing their concern for lost property rights, questioning the need for two big pipelines (and many more}, impacts to fisheries, unstable soils, impacts on fragile karst terrain, loss of water supplies and more, but felt they had not been heard.
Indeed, West Virginia's Department of Environmental Protection had just rescinded their approval of the Mountain Valley Pipeline the week before, due to concerns about the inadequacy of the company's environmental review. This was done due to citizens suing in federal court. A group of North Carolina residents also won a similar court case against the Atlantic Coast Pipeline, challenging North Carolina's permitting. However, in a recent ruling FERC, Federal Energy Regulatory Agency, the quasi-federal agency which approves pipelines, ruled that New York state's regulators could not challenge its approval of a pipeline there.
So, while participants were encouraged by legal appeals, their fear and concerns about the future of their property and the rivers and streams and the landscape they love were not allayed. Ashby Berkeley, whose family's riverside property in Pence Springs will be crossed by the MVP if it is built, said. "It is not just because they want to come through my family property, I would oppose it for many reasons anyway. It is not the right solution for our country's energy needs to keep relying on fossil fuels, and the impacts are too great on communities. Plus, where are these gas supplies going? Lots of this gas will be exported overseas, and we here will not see anything but negative impacts. Where is the upside for us?"
Clover Lick resident Maryann Tomasik showed the assembled group the exact location of the spillway for the proposed crossing along the Greenbrier River Trail of the Atlantic Coast Pipeline. Local resident Nikki Alikakos, who returned to her family home two years ago with her husband and young children expressed dismay that they had thought they would be returning to the bucolic landscapes and country life she missed in larger cities. She decried the intrusion of two large projects on one small river in Appalachia as she and her family walked up the trail to see the proposed crossing. "It is so disheartening to come home to being part of an energy sacrifice zone," she lamented.
Organizers of the event, The Greenbrier River Watershed Association (GRWA) and West Virginia Rivers Coalition expressed the hope that the event would help raise peoples' awareness of the impacts of the proposed pipelines on what are considered relatively unspoiled areas of the state. Leslee McCarty, board member of the GRWA said, "We thought the name double -crossed conveyed not only the fact that the river will be crossed twice if the companies get their way, but also of the sense of betrayal felt by many community members"
________________________________________________________________________________________________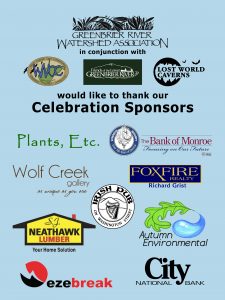 Greenbrier Watershed Celebration
is grateful to our sponsors:
Bank of Monroe
Ezebreak
Irish Pub
Plants Etc.
Richard Grist
S.J. Neathawk Lumber
Wolf Creek Gallery
And our partners:
Friends of the Lower Greenbrier
______________________________________________________________________________________________
The Greenbrier River Trail is Open
July 18, 2017
Reports are that the repairs to the lower portion of the trail have allowed the trail to reopen from North Caldwell to Cass. Portions of the damaged lower section still need some TLC, but reports are that it is definitely bikeable! Everyone should be aware that there may be Preview Changessome hazards. We are so happy the trail is "whole" again! Thank you to everyone who helped make this a reality! Stay tuned for more updates.
See video of restored Greenbrier River Trail HERE
________________________________________________________________________________________________
Trump Administration Moves to Undo Clean Water Protections
Angie Rosser, West Virginia Rivers Coalition

Washington DC – Today the Trump Administration put the sources of drinking water for more than half of West Virginians at greater risk, along with the streams and wetlands that filter pollution and provide habitat for wildlife, by starting the process to repeal the Clean Water Rule.
The rule was in place to clarify protections for West Virginia's vulnerable headwater streams under the Clean Water Act. Over half (54%) of West Virginians get their drinking water from sources that rely on small streams that were protected under this rule.
"This is a troubling day for water drinkers, river users, and wildlife in West Virginia," said West Virginia Rivers Coalition Executive Director Angie Rosser. "Our state's headwater streams supply the drinking water sources for millions of people; this rule was important for the health of our communities and everyone downstream."
Rosser said that for more than a decade, many of our streams have been stuck in a legal limbo caused by two divided Supreme Court decisions, actions of the previous administration and inaction by Congress. The rule clarified that 8,390 miles of streams that feed into West Virginia's drinking water sources were protected. Now those streams are put back at risk.
The Clean Water Act rule repeal announced today by the Trump Administration had been the subject of more than a million public comments, with 87 percent of those responding—including over 2,000 West Virginians, supporting the rule. Learn more.
Clean up begins on Greenbrier River waterways
Austin Davis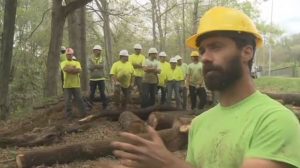 GREENBRIER COUNTY (WVVA) –
When looking at the rivers and creeks in Greenbrier County it's easy to spot trash and other debris left behind by last summer's floods. However, crews are working to clean it up to help prevent future flooding.
Trash piles filled with tires and debris, all from the Rupert/Rainelle area. The Human Resources Development Foundation is taking care of the fallen trees that play a big role in flooding issues.
"We had to cut the trees off in order for the water to flow the way it's supposed to because with the trees blocking, it's causing the water to build up which is going to cause a flood again," said Audie Sloan, Crew Leader for HRDF Greenbrier County. See video HERE

____________________________________________________________________________________________
Make it Shine Volunteers Rock!
A chilly start, but the crew from the Greenbrier River Watershed Association was ready for the challenge! Anthony Boat Launch and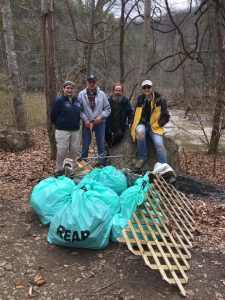 Campground Area is ready for the summer. Thanks to all that participated in this years Make it Shine event!
________________________________________________________________________________________________
The Great Greenbrier River Race is in the books!
Congratulations to everyone!

2017 was the 31st annual Great Greenbrier River Race. The race is held the last Saturday in April each year. With great prizes, live music and good food,the event attracts a loyal following of racers and fans.
Originally a team event with four members, canoeists, bicyclist and runner, the race has now attracted many people who do it solo. But there is still room for the whole family or the family dog on a team! Kayaks and canoes are both encouraged and the many categories encourage prizes for many racers.
________________________________________________________________________________________________
WATERSHED GROUP VIDEO'S
Check out the Watershed Group Videos, including ours, HERE

Currents is a celebration of the dozens of watershed groups that help protect, preserve and restore West Virginia's waterways, told in their own words. It premiered at the WV Rivers Film Festival in Morgantown on October 22, 2015. Currents is a production of the WVDEP, and was produced and directed by Michael Huff.
---
________________________________________________________________________________________________
For Legislative Updates, please check the following:
West Virginia Environmental Council;
West Virginia Citizens Action Group;
West Virginia Surface Owners' Rights Organization
________________________________________________________________________________________________
---
West Virginia Natural Streams Preservation Act
________________________________________________________________________________________________
Greenbrier River in Pocahontas County. Photo credit to Kevin Jack Photography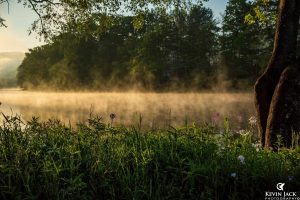 _____________________________________________________________________________________________

________________________________________________________________________________________________
Final EPA Report: Fracking Threatens Drinking Water
December 13, 2016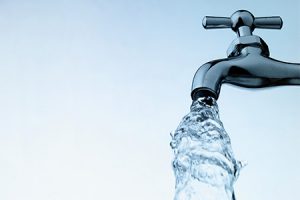 After years of researching the environmental effects of horizontal gas drilling, including the controversial practice called "fracking", the Environmental Protection Agency released a final report that highlights threats, but is still largely inconclusive.
Drilling practices that capture gas trapped in shale rock deep underground can contaminate drinking water – but federal regulators aren't sure how risky it is. That's the final takeaway from a $30 million report that took six years to finish. Continue
---
---
WV Supreme Court: No Pipeline Surveys for Private Gain
West Virginia property owners won an important case at the West Virginia Supreme Court of Appeals on Tuesday when that Court sided with Appalachian Mountain Advocates attorneys, ruling that the Mountain Valley Pipeline cannot survey for its proposed natural gas pipeline without landowner permission. The Court held that such a survey would constitute an illegal "private taking for private use," because the proposed pipeline would not benefit West Virginians. Full story click here

---
The Greenbrier River Watershed Association, founded in 1990, is one of the oldest watershed associations in the state. With th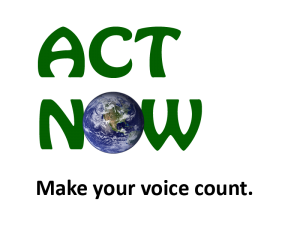 is website, we hope to give the Greenbrier River Watershed residents and visitors the tools they need to take responsible care of the land that is home to the waters. Most importantly we hope that the people of these beautiful mountains get outdoors and enjoy wild and wonderful West Virginia. Come out and join us!
GRWA-Report-2015
NEWS: Greenbrier River Watershed Association joins with Pipeline Update to provide the most up to date meeting information and news on proposed pipelines in our watershed. If you want the most recent news and information, go to http://pipelineupdate.org/ and see what is happening lots of folks are coming out to meetings all over West Virginia and Virginia!
HIGH QUALITY PIPELINE MAPS:
More maps at Mountain Valley Pipeline
Download these from Dropbox:
Pocahontas County WV Map 9mb
Randolph County WV Map 14 mb
Upshur County WV Map 14 mb
Part 1 Harrison County WV Map 5mb
The Greenbrier River
From the wilds of Blister Swamp high in the Allegheny Mountains until it flows into the New River Gorge National River near Hinton, the Greenbrier River has carved its way almost two hundred miles through some of the most beautiful and unspoiled terrain on the East Coast. It is the longest free flowing river in the East, and boasts two of our newest wilderness areas, Spice Run and Big Draft.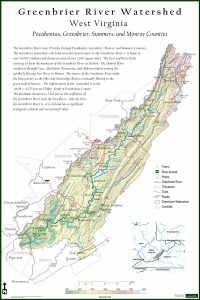 One of the nation's oldest rail to trail conversions, the scenic Greenbrier River Trail parallels the river for almost eighty miles in Pocahontas and Greenbrier Counties, affording access to the river and some of the surrounding state parks and forest and the Monongahela National Forest.
The river and its tributaries provide drinking water for communities, water for agriculture and recreation, and home for abundant wildlife, including bald eagles, lynx, black bear, river otters and myriad of birds and mammals.