POSTPONED!



Informational meeting on Natural Gas, Safety and Public Health
Lewisburg Public Library
Lewisburg, WV
March 18, 2020 Wednesday
Professor Yuri Gorby Phd., will lecture on "The effects of the natural gas industry on Appalachia", on Wednesday, March 18 from 6:30 to 8:30 at the Lewisburg Public Library. Professor Gorby, former research scientist with the United States Department of Energy, will share information regarding the fracking of West Virginia and the effects on Greenbrier County and all residents who live in proximity to the proposed pipelines and compressor stations.
Dr. Gorby's presentation uses scientific evidence and documented accounts to illuminate known risks and consequences of high-pressure transmission pipelines, with special considerations for the challenges posed by the mountainous terrain of southeastern West Virginia. His lecture will be followed by a question and answer period. Local residents are encouraged to come and participate.
For those unable to attend, the lecture will be posted as a YouTube video, in addition to having a Facebook watch party. Participants can easily share so the important information can be made accessible to all.
---
Getting Little Feet Wet Workshop
Linwood Community Library
Slaty Fork, WV
November 7, 2019 Thursday
2:00 PM – 5:00 PM Preregistration Required
Designed for educators who work with young children ages 3-6, this free workshop will help you teach about water in fun, age-appropriate ways. Getting Little Feet Wet is a new resource from global water education leader the Project WET Foundation.
Register for workshop by contacting Tomi Bergstrom at Tomi.M.Bergstrom@wv.gov or call 304-926-0499 X 1098.
---
All You Ever Wanted to Know About Global Warming
WVU Building, WV State Fairgrounds
Fairlea, WV
November 9, 2019 Saturday
1:00 PM – 3:00 PM
The presentation is being sponsored by the Greenbrier Valley Master Gardeners and offered by Tom Rodd, an environmental lawyer who lived in Greenbrier County before moving to Morgantown, WV.
Mr. Rodd has developed award-winning, kid-friendly climate science programs in dozen of schools and clubs around West Virginia. The programs are sponsored by the West Virginia Center on Climate Change, a project of Friends of Blackwater.
This presentation will offer fact-based information on climate change as well as audience activities, colorful props, and banjo music to explain the science of global warming. The program is FREE and designed to be of interest to all ages.
Any questions about the program can be directed to the WVU Extension office in Fairlea, telephone (304) 647-7408.
---
Pickin' on Rockwool 2: Far From Over
Town Run Taphouse & Community Pub
Shepherdstown, WV
November 9, 2019 Saturday
4:00 PM – 10:00 PM
A Grassroots Fundraiser to Keep Jefferson County Beautiful
Featuring Live Music By
The Derailleurs, Chelsea McBee, Don Oehser, The Gypsy Ramblers
JCV and EPCG are excited to announce the upcoming Pickin' on Rockwool 2! The fight is Far From Over and once again the community is coming together to celebrate our commitment and raise funds to support the continued efforts of our neighbors.
GET YOUR TICKETS TODAY $20
Silent Auction / Food / Games / Door Prizes
For more information visit Pickin' on Rockwool

---
North Carolina March for Justice
171 Doc Henderson Road, (Open field on Red Springs Road)
Maxton, NC
November 16, 2019 Saturday
10:00 AM – 4:00 PM
Join individuals and organizations who oppose the expansion of harmful, carbon-based, natural gas production and who promote a clean, renewable energy future and job growth across North Carolina. This is a statewide action to stop the liquid natural gas (LNG) storage facility in Robeson County, North Carolina.
For more information please visit North Carolina March for Justice
---
Environmental Justice Workshop
New River Community College, NRV Mall Site
Christiansburg, VA
September 14, 2019 Saturday
9:30 AM – 12:30 PM
Come learn more about the major environmental issues affecting the New River Valley with Russell Chisholm, Lydia Patton, Freddy Paige, and Emily Satterwhite
Hosted by Virginia Organizing
For more information contact Brandy: bfaulkne@vt.edu or Jack: leffjr@vt.edu
---
Freshwater Folk Festival
White Sulphur Springs, WV
September 14, 2019, Saturday
10:00 AM – 4:00 PM
Come for free live music by Mad Dog and Platypus, Shayar, 2nd Block Rock, and the ukulele band called GROUP at the hatchery amphitheater plus free nature and science activities of all sorts for children and adults under the spacious tent (for instance, West Virginia Snakes, Trout Unlimited, Hanging Rocks Raptor Observatory, US Forest Service, WV Department of Environmental Protection, WV Science Public Outreach Team, Sigma Xi Science Activity Tables, WVSOM Research Club "Anatomy Extravaganza", Nima's Augmented Reality Phone App Demo, FEMA, USDA Natural Resources Conservation Service, and likely, the Greenbrier River Watershed Association). Vendors will sell food and crafts at the festival.
For more information click HERE
---
Learn & Preserve: Jefferson County Regional Water Symposium
Clarion Inn, Harpers Ferry, WV
Saturday, September 28, 2019
9:00 am – 3:00 pm
Rural Agricultural Defenders (RAD) is pleased to present the second in a continuing series of symposia focused on providing the public with clear, unbiased and accurate scientific information to allow for evidence-based decision making and action at the individual and community level.
This single day symposium will focus on a natural resource that connects the residents of Jefferson County, WV to each other and the larger region, water!
Residents and community organizations of Jefferson County, and our neighbors in West Virginia, Virginia, Maryland and the District of Columbia, are invited to attend. Morning sessions will focus on groundwater education. Afternoon sessions will include practical information for water testing and opportunities to take action.
Attendees will have the opportunity to put what they learn into immediate action by visiting the Water Resources and Action Expo Hall. Local and regional water advocate organizations will be on-hand to showcase their projects and programs and connect with individuals who want to start taking action immediately!
Registration will be FREE! (Please donate!)
Registration includes the full day of Symposium sessions, beverages and snacks, buffet lunch (including a vegetarian option!), entrance to the Water Resources and Action Expo Hall, and an invitation to organize with neighbors to put learning into action!
For more information, please visit rad
---
Hands Across the Appalachian Trail
Humpback Rocks Visitors Center
Milepost 5.8 Blueridge Parkway, Lyndhurst, VA
September 28, 2019, Saturday
11:00 AM – 1:00 PM
Join your friends and neighbors at the Fourth Annual Hands Across the Appalachian Trail! Be part of this special weekend of events across the state on Saturday, September 28 and Sunday, September 29, as we work to protect our communities, water, air, land and natural treasures from the threats posed by unneeded and harmful fracked gas pipelines.
The Mountain Valley and Atlantic Coast pipelines propose to cross several nationally known and highly popular public recreational areas including the George Washington National Forest, the Blue Ridge Parkway, the Great Eastern Trail, and – the iconic Appalachian Trail. The dedicated work of volunteers, community groups, allies, legal advocates and individuals has led to Stop Work Orders and further delays of the pipelines, and the efforts to stop these fracked-gas project continues.
The Hands Across the Appalachian Trail events features the Appalachian Trail Conservancy's vision to "connect the human spirit with nature – preserving the delicate majesty of the Trail as a haven for all to enjoy." Come celebrate the Appalachian Trail, meet others working to protect it and enjoy food, music, and speakers!
For more information contact:
Jessica Sims:
jessica.sims@sierraclub.org
804-366-0745
Other Hands Across the Appalachian Trail events:
Saturday, September 28, 11am-1pm
Pearisburg, VA
Giles County
Route 100 intersection with Appalachian Trail (Trailhead), 2030 Narrows Road, Pearisburg, VA 24134 (Bluff City)
Sunday, September 29, 11am-1pm
Bluemont, VA
Bears Den, 18393 Blue Ridge Mountain Road
---
Hands Across the Potomac
James Rumsey Bridge, Shepherdstown, WV/ Sharpsburg, MD
October 13, 2019, Sunday
12:30 PM – 2:00 PM
Please join us on Sunday, October 13th, for the 2nd Hands Across the Potomac Event. Just like 356 of us did in October 2017, hundreds of us will stand and hold hands on the bridge across the Potomac River between Shepherdstown WV and Sharpsburg, MD.
We will meet at the amphitheater next to Erma Ora Byrd Hall on King Street on the campus of Shepherd University at 12:30pm. The rally will take place at the amphitheater. Afterwards, we will walk to the James Rumsey Bridge for the action.
The action will be a demonstration of the UNITY of residents of MD, WV, VA and our whole region against the Potomac Pipeline and the toxic Rockwool factory the pipeline would serve.
Back in 2017, we were all united against the pipeline, but we were not aware of plans to build the highly polluting insulation factory, Rockwool. Now that we know the dangers of the proposed factory, we oppose this pipeline more fervently than ever.
Rockwool would pollute the air and water right across the road from a Title 1 elementary school and the working-class neighborhood of Fox Glen. The pipeline would also make a whole 1000-acre industrial park possible. Rockwool is just supposed to be the "anchor tenant" of this proposed industrial park along the route 9 corridor in Jefferson County.
The Rockwool plant would be a climate disaster. The planned factory would burn as much gas as a city with 24,000 residents and more than double sales for Mountaineer Gas in the Panhandle. Rockwool also plans to burn more than 90 tons of coal per day.
Please join us in showing our opposition to both Rockwool and the Potomac Pipeline that would enable it.
Directions and Parking:
You may park in lots C or K on the Shepherd University campus, lots adjacent to Shepherd's Ram Stadium. When approaching from N. Duke Street, turn onto N. King Street to enter the parking lot.
GPS directions: Ram Stadium, WV-480, Shepherdstown, WV 25443
Our meeting point is a few steps away at the amphitheater on North King Street, next to Erma Ora Byrd Hall. From there, we will march together to the James Rumsey Bridge (a 5 minute walk) which sits over the Potomac River.
---
Folklore, Science, and West Virginia's Climate
West Virginia University College of Law
June 15, 2019, Saturday
3:00 PM – 6:00 PM

Storytellers, scientists, and activists come together to discuss the intersection of science, folklore, and climate change in West Virginia.
Free parking on-site, light refreshments provided.
For more information, contact:
Logan Thorne at (304) 657-5455 or Logan.thorne.LT@gmail.com
---
Free Webinar: Monitoring Pipelines with Online Mapping
May 7, 2019, Tuesday
7:00 PM

Join the WV/VA Water Quality Monitoring Project for two free webinars on programs that use online interactive mapping systems to allow volunteers to identify water quality impacts from natural gas pipelines by viewing aerial photography. Pipeline CSI and Mountain Valley Watch are innovative programs developed to help citizens monitor construction of the Atlantic Coast Pipeline and the Mountain Valley Pipeline and report water quality violations using high-tech tools. Register below.
Mountain Valley Watch, Monitoring the Mountain Valley Pipeline – Tuesday, May 7 at 7:00PM
Mountain Valley Watch is a collaboration of volunteers, nonprofits, and private interests, who observe and document construction of the Mountain Valley Pipeline. Register here.
Can't make the live webinars? We'll send everyone that registered for the webinar a link to view the recording.
---
Protecting your water from runoff
Raleigh Playhouse and Theatre
February 21, 2019; Thursday
5:30 PM – ?
Do you want to know what YOU can do to protect our rivers and streams from contamination due to runoff? Join us at our FREE event!
The Piney Creek Watershed Association invites you to attend our Winter 2019 General Meeting at 5:30 p.m. on Thursday, February 21, 2019 at the Raleigh Playhouse and Theater in Beckley, WV to learn how to monitor water runoff from construction sites, best management practices to prevent runoff, and how to report violations of state and local storm water runoff regulations. The West Virginia Department of Environmental Protection and the West Virginia Rivers Coalition will provide expert information on what you can do to protect our watershed.
In addition, we will recognize our 2018 Volunteer of the Year, Katie Stanley, and discuss our plans for 2019!
The event is FREE and open to the public. Light food and refreshments will be provided.
If you would like additional information, please contact us at (304) 228-1680 or email at pineycreekwatershedassociation@gmail.com. We look forward to seeing you there!
You may also check the Piney Creek Watershed Facebook page HERE
---
E-DAY at the Capital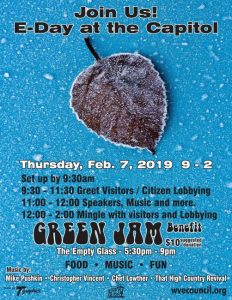 WV State Capitol Building
February 7, 2019; Thursday
9:
00 AM until 2:00 PM
Speak out to protect our water, our air, our environment at E-day, as the 2019 Legislative Session reaches its half-way mark. Lobby your state lawmakers, learn about environmental and social justice organizations from across the state.
ALSO

~ Join Us at the Green Jam at the Empty Glass Pub that evening!
$10 suggested donation
Green Jam fundraiser at the Empty Glass pub, only 2 blocks from the Capitol. Food and music! Musicians include Delegate Mike Pushkin, Andy Park and Karen Allen, That High County Rival and Chet Lowther
---
Free Webinar
January 29, 2019; Tuesday
11:00 AM – 12:00 PM
Sponsored by WV RIVERS
Learn how education and outreach activities can help your grassroots organization recruit members.
During the webinar you'll learn from:
Tomi Bergstrom, WVDEP Project WET and Western Basin Coordinator. Tomi will explain how to use Project WET to plan water festivals. Water festivals are generally a one-day, outside water education events for 5th grade students. The festival is designed to heighten children's awareness about natural resources and their role in helping to protect them.
You'll also hear from WV Watershed of the Year winner, Friends of the Cheat. Amanda Pitzer and Beth Warnick will share their experiences in planning education and outreach events in their watershed. You'll learn about their successes and lessons learned with new member recruitment.
For more information and to register please visit WV RIVERS
---
Morgantown, WV
December 9, 2018; Sunday
1:00 PM – 3:00 PM
Holiday Potluck & Program
Sponsored by Mon Group of the WV Sierra Club & Sierra Club
Meet fellow Sierra Club members for dinner and conversation in Morgantown. Learn more about the Ready for 100 program and what we can do to address climate change.
For more information please visit the

Event Page



---
Richmond, VA
December 10, 2018; Monday
Air Board Meeting & Vote on Union Hill Compressor Station

Hosted by
Water is Life. Protect it.

Virginia's Air Pollution Control Board has rescheduled its meeting to vote on whether to accept or deny Dominion's draft air permit for the proposed Atlantic Coast Pipeline's Buckingham compressor station.
In the meantime, Governor Northam dismissed two members of the Air Board who voiced concerns against this permit. We need to show up in force and make sure the new Board members know: this dangerous compressor station will not stand.
BACKGROUND INFO:
The proposed Atlantic Coast Pipeline Compressor station would diminish the safety, health and land values of all residents of Buckingham County and destroy the lives of Union Hill. But the ACP fracked gas pipeline is not a done deal and is currently delayed in court and lacks key permits. For more info please visit Event Page

---
June 27, 2018
8:00 AM – 6:00 PM
Plant Rescue in the Narrows of Hans Creek
We will be working with Ryan Huish grom the University of Virginia Wise to rescue native plant from the pipeline path. For more info please visit
Event Page
---
March 13 & March 27, 2018
Volunteer Pipeline Visual Assessment Program
The Volunteer Pipeline Visual Assessment Program was developed by Trout Unlimited and West Virginia Rivers Coalition to support and train volunteer citizen observers to identify, document and report pollution incidents associated with large-scale pipeline development.
Through a series of free webinars, volunteers will learn about erosion control best management practices used in pipeline development, specific examples of pollution to look for, and how to best document those problems. After the webinar, volunteer observers will be able to report pollution incidents to TU and WV Rivers. To learn more, visit the program webpage.
To participate in the program, please register for one of our free webinar trainings.
Register for the webinar in the state you plan to monitor:
VA Specific Webinar: Tuesday, March 13th — 7:00pm-8:30pm. Register here.
WV Specific Webinar: Tuesday, March 27th — 7:00pm-8:30pm. Register here.
For more information, please contact Jake Lemon, TU's Eastern Angler Science Coordinator, at jlemon@tu.org.
---
March 15, 2018
Summers County to host MVP Public Hearing
What: Mountain Valley Pipeline Public Hearing
When: 6:00pm, Thursday, March 15
Where: Memorial Building, Hinton, WV
HINTON — With ongoing litigation over the Mountain Valley Pipeline (MVP) in both state and federal courts, the Summers County Commission says it will hold a public meeting about the projects next month.
The meeting will be on the stress added to the community in the form of infrastructure damages, added load to fire and emergency services, hospitals, health department and other infrastructure.
The meeting will be March 15 at 6 p.m. at the Memorial Building.
"By all accounts, MVP is happening," said local attorney Elise Keaton who believes the meeting is a way for the community to be proactive.
Keaton, who proposed the public meeting, told the commission that just Wednesday morning, MVP had been granted permission to begin working on a spread in Monroe County and also shared that a zoning dispute between the pipeline entities and the Fayette County Commission has not stopped work in that county.
According to the attorney, the pipeline entities have been using the federal Natural Gas Act to trump local authorities.
As proposed, the meeting will consist of the heads of different local authorities such as the county commission, the sheriff, the Hinton Police chief, the local health department, a representative from the West Virginia Division of Highways and a representative from the pipeline group if they agree.
While damage to local infrastructure by heavy industrial traffic is the most obvious cause for concern to Keaton, she also shared her concerns with an influx of workers.
"There will be an influx of transient workers with a lot of cash," she said. "Along with the positive benefits of them spending that money in our community in legitimate businesses, there are also some negative aspects as well."
With the invitation to the pipeline entities, Keaton told the commission that she hopes to learn how negative impacts were addressed in other communities.
"The point is basically, let's get everybody on the same page of what it looks like," Keaton said. "Then allow the agencies to have conversations with the public, with the county within their own structures as to what they may or may not do to prepare for it."
While interested in the meeting itself, the commission also raised the question on legal protections in the case of infrastructure damages and if and how the county will be able to hold pipeline entities responsible.
In the recent past, the commission passed industrial construction ordinances that, while they would not be able to halt construction, equate to the county collecting some permitting fees.
"We need to have some kind of performance bonds so that we know they are going to put the property back in a decent condition," said Commission President Bill Lightner.
While Keaton questioned whether the pipeline entities would approve of such measures, she told the commission that a public meeting will get the community thinking about what needs to be done in the near future.
"It's my sense that most of the folks we are going to ask to this table haven't given a tremendous amount of thought to the negative stuff," she said. "It's an educational opportunity to raise the issues."
The attorney also confirmed that local hotels, resorts and campgrounds have already received calls reserving a large portion of their properties in blocks. Full story HERE

---
March 16, 2018
VMRC Schedules ACP Public Hearing
What: Virginia Marine Resources Commission Public Hearing on Atlantic Coast Pipeline
When: 9:30am – ? , Friday, March 16
Where: Newport News City Council Chambers at 2400 Washington Avenue, Newport News, Virginia
A public hearing will be held by the Virginia Marine Resources Commission (VMRC) beginning at 9:30 a.m. on March 16, 2018, in the Newport News City Council Chambers at 2400 Washington Avenue, Newport News, Virginia, to consider an application submitted by Atlantic Coast Pipeline, LLC to install a natural gas pipeline beneath the bed of 48 non-tidal streams and/or rivers with drainage areas greater than 5 square miles, which are considered to be State-owned subaqueous bottomlands of the Commonwealth, beneath 3 tidal streams and approximately 1.6 acres of tidal wetlands along the designated pipeline corridor in Highland, Bath, Augusta, Nelson, Buckingham, Prince Edward, Cumberland, Nottoway, Dinwiddie, Brunswick, Greensville and Southampton Counties and the Cities of Chesapeake and Suffolk for the Atlantic Coast Pipeline Project (ACP).
Copies of the application may be examined at the VMRC Office, Habitat Management Division.
Send comments/inquiries to: Marine Resources Commission, Habitat Management Division, 2600 Washington Avenue, 3rd Floor, Newport News, Virginia 23607.
Public Notice HERE
---
March 20, 2018
FIGHTING PIPELINES ON EVERY FRONT
What: Training call that will address pipelines and associated infrastructure.
When: Tuesday, March 20th from 12pm – 1pm (EST)

Where:
Your location (Home, etc.)
Local, state and federal…fighting every permit, no matter how small it might seem. Looking at ordinances on the local levels that can be changed in advance like floodplain ordinances, or the ordinance which allowed the compressor station. Changing state laws for survey without permission before it happens in communities. Passing laws that require state environmental quality to complete individual stream crossing 401 permitting.
Speaker: Sharon Ponton
Sharon has worked for the Blue Ridge Environmental Defense League (BREDL) for 3 years as its Stop the Pipelines Campaign Coordinator. While she is not a directly-affected landowner, Sharon lives in Nelson County, VA, a community slated to host 28 miles of the 600-mile long Atlantic Coast Pipeline (ACP). She has organized in and worked with communities along the paths of the proposed ACP and the Mountain Valley Pipeline (MVP), both are 42″ fracked gas pipelines which are scheduled to be built through Virginia.
Before her work with BREDL, she volunteered as a community advocate, and worked in newspaper publishing.
The call is FREE, but space in limited so register today!
RSVP Here.
---
March 24, 2018
West Virginians for Public Lands Volunteer Leadership Workshop
Learn To Lead And Organize Your Community to Defend Public Lands
What: West Virginians for Public Lands Volunteer Leadership Workshop
When: 9:30am-4:00pm, Saturday, March 24
Where: Buxton Landstreet Gallery, 571 Douglas Rd., Thomas, WV 26292
Ready to take your public lands activism beyond writing letters to decision makers? Ready to inspire others in your community to act? You're ready to be a West Virginians for Public Lands volunteer leader. We have a fun daylong training to get you there. Whether you are new to volunteering or you are already a conservation leader, this workshop is for you. No prior organizing or volunteer experience is required.
During the workshop, you'll join a corps of regional volunteer leaders from across the state who are already successfully defending West Virginia's public lands. They'll help facilitate the workshop, and will share strategies that work and experiences from the field. Joining the WVPL volunteer leaders are Pat Lane, a seasoned veteran of national campaigns, and WV Rivers' Matt Kearns, who will provide background on public lands policy.
How to register: Please fill out this form to register. Apply by Friday, March, 16.
Questions: Email Megan Hamilton, mhamilton@WVRivers.org.
Lunch and coffee will be provided. Lodging is not provided, for lodging suggestions go here.
Limited scholarship funds are available for travel to the workshop. Please only apply for funds if financial hardship would keep you from participating in the workshop. Email, Megan Hamilton, mhamilton@wvrivers.org, for support requests.
West Virginians for Public Lands is an alliance of people, organizations, and businesses coordinated by West Virginia Rivers Coalition, working to defend and enhance the natural and recreational values of our public lands and waters.
More info HERE
---
April 6, 2018
Community Organizing Summit hosted by the AGWG
We want to help you take action against extraction.
What: Community Organizing Summit, hosted by the Appalachian Gas Working Group
When: Friday, April 6 – Sunday, April 8
Where: Jackson's Mill, 160 WVU Jackson Mill, Weston, WV
The Appalachian Gas Working Group (AGWG) invites grassroots groups, organizations, activists, and socially conscious folks who are interested in learning the basic tools of grassroots movement building to better their communities in any way, especially those who want to resist the growing threat of oil and gas extraction, to attend our Community Organizing Summit, April 6-8,in Weston, WV.
The goal of the Community Organizing Summit is to empower and strengthen grassroots activism with leadership training, coalition building, and outreach. The Summit will also provide opportunities for in depth learning on select topics.
Grassroots Skill Building:
– Speaking Across Bridges – How to talk with all sides.
– Coalition Building – Strengthening through partnerships.
– Maximizing & Diversifying Your Media and Outreach.
– Community Canvassing – Cold calls, door-to-door, sculpting your "ask."
– Starting and Building a Campaign – Mission, goal setting, strategies, and more.
Community Education:
– Gas Related Health & Medical Effects – Impact on individuals and community, available resources, and health surveys.
– Permitting and Enforcement – Community oversight, enforcing the law, and protecting your rights.
– Environmental Monitoring – Water, Air, and Land.
– Appalachian Storage Hub, Mid-stream Processes, and What This Means to Your Community – Impact on individuals and community by pipelines, storage facilities, cracker plants, and extraction.
– Fighting Eminent Domain, Co-Tenancy, Forced Pooling, and Right To Trespass – Your rights and how to protect your land.
Registration:
Registration is required by March 30. Complete your registration for attendance, meals and lodging through Eventbrite:https://www.eventbrite.com/e/community-organizing-summit-hosted-by-the-agwg-tickets-43440355272.
Scholarships:
Limited scholarships are available for those who need financial assistance to attend. If you are applying for a scholarship, please fill out this form (https://goo.gl/forms/2sfvxLsXclf9pRhr2). Individuals applying for a scholarship do not need to register through Eventbrite. Scholarship applications are due by March 23.
For more info please check the event page on Facebook HERE
---
Public hearings on pipelines in Virginia (2017)

– Aug. 7, 6 to 10 p.m. James Madison University, Festival Conference and Student Center, Grand Ballroom, 1301 Carrier Drive, Harrisonburg. Parking is in lots C11, C12, and D3.
– Aug. 10, 6 to 10 p.m. Longwood University, Jarman Auditorium, 201 High St., Farmville. Parking is in Wheeler Lot, Crafts Lot, High Street Lot, Randolph Lot or other university-owned lots.
– Aug. 14, from 6 to 10 p.m. Dinwiddie High School Auditorium, 11501 Boisseau Road, Dinwiddie. Parking is only in designated areas on school property.
Mountain Valley Pipeline
– Aug. 8, 2017, from 6 to 10 p.m. Radford University, Preston/Bondurant Auditorium, 801 E. Main St., Radford. Parking is only in Lot A, or Lots E and U
– Aug. 9, from 6 to 10 p.m. Chatham High School Auditorium, 100 Cavalier Circle, Chatham. Parking is only in designated areas on school property.
The West Virginia DEP published on July 1 in local newspapers its notice of a comment period for Section 401 certification for the ACP (the agency has already approved 401 certification for the MVP). The comment period concludes August 4. Written comments should be emailed to: dep.comments@wv.gov or mailed to: WVDEP Division of Water and Waste Management, Att: Laura Cooper, 601 57th Street SE, Charleston, WV 25304-2345.
Public hearings will be held on:
Monday, July 31, 6 p.m. – Buckhannon-Upshur High School Audiorium, Buckhannon, WV
Tuesday, August 1, 6 p.m.-PocahontasCountyHigh School Auditorium, Dunmore, WV
Information provided by: Allegheny Blue Ridge Alliance
---
---