Mountain Valley Pipeline, a litmus test for big projects, is delayed again
Equitrans Midstream Corp. has again delayed the start date for its 303-mile Mountain Valley Pipeline and raised its estimated cost to $6.6 billion, more than twice the original estimate.
But the big question was whether the natural gas pipeline would ever be completed and what that could mean.
The Canonsburg-based Midstream firm said on Tuesday that it plans to apply for two environmental permits to replace the ones that were challenged and struck down in court. The process is likely to delay the restart of construction until at least the second quarter of next year.
MVP's journey from conception in the early 2010s through permitting, construction — the project is 94% completed, according to the company — lawsuits, protesters chaining themselves to bulldozers, and project sponsors losing faith, is viewed by supporters and opponents as a cautionary tale.
The pipeline was envisioned to bring shale gas from the Marcellus and Utica in Appalachia to markets in the Southeast. It began construction in 2018 and has been beset by legal challenges. In February, the U.S. Court of Appeals for the Fourth Circuit invalidated two key environmental permits — one from the U.S. Fish and Wildlife Service that concluded no endangered species would be harmed by the pipeline, and another from the U.S. Forest Service and Bureau of Land Management that allowed MVP to cross the Jefferson National Forest.
A few weeks later, NextEra Energy Resources, an energy company that would be using the gas transported by MVP and part owner of the project, wrote down its entire investment $800 million — concluding that the "continued legal and regulatory challenges have resulted in a very low probability of pipeline completion."
AltaGas, another much smaller stakeholder, has written down $271 million in Canadian dollars.
Downtown-based EQT Corp., which was one of the project developers early on and had signed up for capacity on the pipeline, has been looking to lower its exposure to it. Last month, EQT disclosed that it sold its remaining stock in Equitrans, which spun out of EQT, for $189 million. It also sold at least half of its capacity on the MVP pipeline.
In the meantime, EQT's CEO Toby Rice has continued to talk about the pipeline project as "critical to the region" and as a litmus test for the political will to build energy infrastructure that backs up the promises being made abroad to help Europe quit Russian gas.
---
Another delay, cost increase for Mountain Valley Pipeline
---
---
1 tree-sitter removed from Mountain Valley Protest protest site
ELLISTON — One of two Mountain Valley Pipeline protesters was removed from a treetop blockade Tuesday by the long arm of the law, which was made even longer with help from a towering construction crane.
Approaching the tree-sitters from above in a day-long operation, police were able to safely extract a protester from a tree stand as darkness fell on the mountains of eastern Montgomery County.
"They got her on the ground," Sara Bohn, a member of the county board of supervisors who was allowed to witness the operation, wrote in a 6:30 p.m. text.
Efforts to remove a second tree-sitter were continuing.
Early Tuesday morning, a crane was parked on Yellow Finch Lane, at the bottom of a steep slope where the activists waited uphill in tree stands about 50 feet from the ground. The crane's boom was extended above the trees, and a bucket with two state police officers inside was then lowered to within arm's reach.
Bohn said police threw what appeared to be blankets and buckets from the wooden platform to the ground. The officers seemed to be talking to the occupant of the tree stand, Bohn said, but she could not hear what was said.
The tree-sitter was locked to a device called a "sleeping dragon," which secured the protester to the tree stand, according to Capt. Brian Wright of the Montgomery County Sheriff's Office.
After cutting through the metal lockbox, police lowered the tree-sitter to the ground in the basket. Medics found that the tree-sitter was unharmed, and the protester was rushed to the magistrate's office in Christiansburg, Wright said.
Late Tuesday, the tree-sitter was identified as Claire Marian Fiocco, 23, from Dorset, Vermont.
Fiocco was charged with interfering with the property rights of Mountain Valley, which has an easement that is currently blocked by the tree-sitters. The defendant was being held without bail Tuesday night, the sheriff's office said.
Crews planned to remain at the tree-sit overnight and continue negotiations with the second tree-sitter, Wright said. The second protester hasn't been publicly identified by authorities.
---
Landowner Citizen Letter to FERC ~ 2/16/21
Ms. Kimberly Bose, Secretary
Federal Energy Regulatory Commission
888 First Street, N.E.
Washington, DC 20426
Dear Ms. Bose,
We are writing to refute the claim made by MVP attorney Todd Normane in a January 26, 2021 letter to FERC (Document Accession #: 20210126-5040) that, "Therefore, the best environmental outcome for water quality, aquatic and terrestrial habitat, and the interests of landowners in the vicinity of the Project is for construction to be completed as soon as possible." Attorney Todd Normane made no distinction in his correspondence between 1) the unnamed and supposedly 'supportive' landowners, 2) the hundreds of landowners MVP sued to essentially 'force' the sale of easements, who may have 'voluntarily' signed those easements, but remain opposed to MVP and 3) the landowners who have yet to sign any easement and whose land has nevertheless been 'taken' by eminent domain.
Many landowners report that they agreed to an easement out of fear of an eminent domain lawsuit. Other landowners who never wanted a pipeline to cross their properties are still in Federal Court fighting this 'taking' of their land. They do not want further desecration of their property. They do not want to see miles and miles of forest being destroyed anywhere in this region. They do not want the contamination of our pure, irreplaceable mountain springs and streams. A significant number of landowners, both on and adjacent to the ROW, have already experienced impacts to their water. Here are three specific examples:
A farmer in Giles County, Virginia, adjacent to the MVP ROW, has reported a complete loss of water on his farm since MVP began construction. He stated that he has had to sell his livestock. He also has two ponds in which he grows commercial fishing bait that have gone dry.
Two landowners in Monroe County, West Virginia have severe turbidity problems in their wells, which are located in karst topography. One of these landowners, adjacent to the pipeline ROW has been transporting water from another location since mid-2018 while the second landowner has to buy his water for drinking and cooking and take his laundry to a Laundromat 25 miles away. Showering and bathing can only be done when the turbidity finally decreases several days after each rain event.
A considerable number of landowners are appalled by the statements made by MVP on their behalf. They do not agree that the action proposed by MVP represents "the best environmental outcome" or their own "best interests". These landowners have always opposed, and still oppose having the pipeline located on their property or on adjacent property. They reserve their inherent right to decide what is best for themselves, their families, and their communities. In conclusion, our members and friends from across the two Virginias do not agree with MVP's statement that the best approach at this time is "to complete the pipeline as soon as possible" and they are outraged that MVP would dare to come to a conclusion about what is in their best interest.
Additionally, landowners along or near the pipeline route do not want any further disruption to their solitude and peace of mind. People are worn out; they are tired of noise, diesel fumes, detours, road blockages, mud and dust. The prevailing feeling is "Enough is enough!"
Some people have confided that the constant stress they have experienced has impacted their physical and mental health. When they resisted selling easements, they were dragged into court. When they finally got a chance to sleep-in, they were woken up by trees being felled. When they were on an important phone call, workers started blasting through bedrock. They were late for appointments because they got stuck at roadblocks. Every landowner we spoke with, regardless of whether they had owned their land for generations or for a few years, frequently and in some cases almost constantly, felt abused.
Additional concerns that have been raised include:
Threats related to Seismic Zone
The pipeline right of way goes through steep Appalachian Mountains with a history of landslides, compounded by fragile karst topography and the existence of two earthquake zones where three significant earthquakes have occurred since the project began. Hundreds of earthquakes and tremors have been recorded over the last hundred plus years, the most recent one occurred in August of 2020 (North Carolina earthquake with 5.1-magnitude strikes north of Charlotte at Virginia border – CNN). This makes residents uneasy and is another reason why many are opposed to any further attempts to complete the MVP. (Update, two new earthquakes occurred in the region on 2-11-21 and 2-12-21 and were documented on the FERC Docket CP16-10 by Maury Johnson -Accession No.: 202102125087 on 2-12-21.)
Threats to water and land
The many stream crossings that may take prolonged periods of time to construct are of great concern to landowners. They are afraid that continued construction will cause more erosion and sedimentation that would imperil their water supplies. These stream crossings may require massive bore pits near water bodies and/or blasting through fragile bedrock. From our experience with the MVP, there is a long list of possible problems that could occur if construction were to be allowed to continue.
Landowner Citizen Letter to FERC 2-16-21
---
Mountain Valley Pipeline cited again for erosion and sedimentation violations
February 4, 2021
The Mountain Valley Pipeline has sunk deeper into trouble with muddy water flowing unchecked from construction sites.
A proposed consent order from the West Virginia Department of Environmental Protection would require the company to pay a $303,706 fine for repeated violations of erosion and sediment control regulations.
West Virginia had previously fined Mountain Valley $266,000 for similar violations along the first 198 miles of the natural gas pipeline. In Southwest Virginia, where the pipeline continues for another 105 miles, regulators have imposed more than $2 million in penalties on three separate occasions.
But pipeline opponents say the fines are too small to deter future environmental damage from the $6 billion project.
"Three hundred thousand dollars is a tiny percentage of the project's overall cost, and does not even begin to adequately cover the damage that's been done to our streams," said Autumn Crowe, a staff scientist for the West Virginia Rivers Coalition.
The most recent enforcement action was signed Jan. 11 by Robert Cooper, who is heading construction of Mountain Valley. The West Virginia DEP will accept written comments through March 13 before taking final action, according to spokesman Terry Fletcher.
Included in the order are 29 notices of violation from February 2019 to September 2020.
Most of the problems were related to maintenance of erosion and sedimentation controls, "all of which have been remediated with no additional corrective actions required," Mountain Valley spokeswoman Natalie Cox wrote in an email Thursday.
"In cooperation with the WVDEP, we have enhanced the level of environmental controls that were originally approved, and the measures in place today are substantially better than those initially installed," the email stated.
Since work began in February 2018, construction crews have struggled to prevent storm water from flowing off steep slopes that have been cleared of trees and graded so the 42-inch diameter pipe can be buried in trenches.
According to the consent order, sediment-laden water was allowed to escape the 125-wide construction zones due to failures of silt fences, water bars and other erosion control devices.
In some cases, water bars — earthen barriers built on steep slopes to divert stormwater — were improperly installed, allowing runoff to accumulate downhill in quantities that overwhelmed retention ponds.
Mountain Valley also failed to adequately plant grass on denuded strips of land, which contributed to problems with runoff, the order stated. Inspectors often observed sediment in nearby streams, which can endanger fish and other aquatic life and cause problems with water quality farther downstream.
There have also been slips, or a gradual movement of earth downhill that is akin to a slow-motion avalanche.
Last April in Lewis County, West Virginia, slips caused a segment of the pipe that had already been buried to shift in at least three locations, according to an inspection report filed with the Federal Energy Regulatory Commission.
Had pressurized natural gas been flowing through the pipeline, any underground movement could have caused a rupture and explosion, pipeline opponents said.
Cox said at the time that Mountain Valley would conduct an investigation as a precautionary measure, but added that the pipeline was designed to withstand minor ground shifting as it settles in the final stages of construction.
Asked about the matter Thursday, Cox said the pipe was excavated, inspected and replaced, and the hillside was stabilized using a mechanically engineered geotechnical reinforcement method.
"As an additional safety precaution, MVP crews surveyed and inspected pipe in other locations along the route to confirm that this was an isolated incident, which was the case," her email stated.
As for the erosion problems cited in the consent order, Cox noted that of the 29 notices of violation, only four were written in 2020 despite significant rainfall that year — evidence, she said, that Mountain Valley is working to make improvements.
Although there were 29 notices issued, some of them contained multiple violations. A total number was not available Thursday.
Mountain Valley says it is on target to finish the pipeline by the end of the year, despite multiple legal challenges to its permits that have caused delays and cost overruns. The joint venture of five energy companies plans to ship 2 billion cubic feet of natural gas a day to markets in the Mid-Atlantic and Southeast regions of the country.
Environmental groups, however, say the project will scar the scenic landscape of Southwest Virginia, clog its streams with sediment and jeopardize endangered species of fish and bats.
Last week, Appalachian Voices and six other organizations asked a federal appeals court to stay two recent orders from FERC — one lifting a stop-work order last October and the other giving Mountain Valley two more years to complete the project.
"Seemingly endless environmental violations have further slowed construction while fouling waters and land along the pipeline's route," the coalition said in a filing with the U.S. Circuit Court of Appeals for the District of Columbia.
The court is currently considering two legal challenges to FERC's actions, and a stay would put pipeline work on hold until a decision is reached. Five more lawsuits are pending against other federal agencies that reissued permits after the original ones were struck down.
Mountain Valley has agreed to stop construction, with the exception of erosion and sedimentation control, until Feb. 22 — the date by which the D.C. Circuit was asked to rule on the request for a stay.
New stream-crossing permits sought in an attempt to finish Mountain Valley Pipeline
Seeking to ease a two-year logjam, Mountain Valley Pipeline will restart a permitting process to cross nearly 500 streams and wetlands that remain as barriers to the completion of its natural gas pipeline.
The company said Tuesday that it will abandon its plan to use a blanket permit from the U.S. Army Corps of Engineers, which allowed the pipe to be buried in trenches dug along the bottoms of water bodies before it was challenged in court.
Instead, it will apply for individual approvals for each open-cut crossing — a more costly and time-consuming process that will require new state and federal reviews of a project already swamped by legal and regulatory delays.
The 4th U.S. Circuit Court of Appeals has twice set aside a so-called Nationwide Permit 12, which critics say fails to adequately assess the environmental impacts of a massive pipeline fording pristine mountain streams.
Rather than continue the legal battle, Mountain Valley attorney Todd Normane said in a letter Tuesday to the Federal Energy Regulatory Commission that the company has decided that switching to individual permits is "the most efficient and effective path to project completion.
Individual permits will entail a more detailed, stream-by-stream analysis that the Sierra Club and other environmental groups say has long been lacking for the largest natural gas pipeline ever built in Virginia.
"Another day, another delay," Joan Walker, of the club's Beyond Dirty Fuels Campaign, said in a written statement about Mountain Valley's latest plan.
With the project already more than two years behind schedule, Walker said, "I can't help but wonder when MVP's backers will quit throwing good money after bad and walk away from this risky bet once and for all."
Despite its latest change in plans, Mountain Valley said it still expects to have the pipeline completed by the end of this year at a projected cost of about $6 billion, nearly twice the original estimate.
"We believe that an efficient permitting process, including all required public participation, can be completed in a timely manner," spokeswoman Natalie Cox wrote in an email Tuesday.
Part of that process will be to ask for a new water quality certification from Virginia's State Water Control Board, which issued such an approval in 2017 amid fierce opposition that continues today.
After granting the certificate — which was needed before the Army Corps could issue its Nationwide Permit 12 — the water board considered revoking it in 2019 but eventually reversed course.
In his letter to FERC, Normane wrote that involvement by the water board and the Virginia Department of Environmental Quality "should be minimized" by the work already done on Mountain Valley's first application.
He also wrote that when Mountain Valley makes an application for individual permits to the Army Corps, the process should involve only minor changes to construction plans that were part of the Nationwide Permit.
So why didn't the joint venture of five energy companies building the pipeline apply for individual permits from the start?
"They thought it was faster and cheaper at the time, and it appeared the State Water Control Board and DEQ were also favorable," said Kirk Bowers, co-founder of Mountain Valley Watch, a citizens group that monitors pipeline construction.
Since then, an expedited movement to renewable energy, combined with the new climate agenda of President Joe Biden, has changed the formula, Bowers said.
Last week, Biden appointed FERC commissioner Richard Glick — who has opposed Mountain Valley's request to resume construction without having all of its required permits in hand — as chair of the panel overseeing the pipeline. That did not bode well for Mountain Valley's hope that FERC would reconsider a tie vote on its request to bore under the water bodies along the first 77 miles of the 303-mile pipeline, which would have allowed it to begin shipping natural gas
Mountain Valley now intends to withdraw that application, Normane wrote.
In new applications to the Army Corps and FERC, the company will likely request a combination of individual permits and new approvals for boring, which does not require an individual or national permit.
When construction began in 2018, three of the national permits — one for each Army Corps district that the pipeline will cross in West Virginia and Virginia — allowed Mountain Valley to conduct open-cut crossings of nearly 1,000 streams and wetlands.
That method entails temporarily damming streams and rivers, digging a trench along the exposed bottom, burying the 42-inch diameter steel pipe about 6 feet deep and then restoring the water flow.
Mountain Valley completed about half of the crossings before its permits were thrown out in 2018 by the 4th Circuit. The Army Corps reissued its approval in September, only to be sued a second time by environmental groups. In a signal that the permits would likely be reversed a second time, the 4th Circuit issued stays in November.
Normane wrote in his letter to FERC that the lawsuits involving the Nationwide Permit will likely be dismissed as moot.
Although currently in a winter slowdown, Mountain Valley continues stabilization work on a buried pipeline that will pass through the Virginia counties of Giles, Craig, Montgomery, Roanoke, Franklin and Pittsylvania.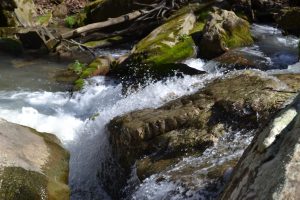 Construction on steep mountainsides has led to muddy runoff, and to hundreds of violations of environmental regulations meant to control erosion and sedimentation.
Although the only key permit Mountain Valley currently lacks is for stream crossings, legal challenges of several others are pending. The seventh such lawsuit was filed Monday, when the Sierra Club and five other environmental groups contested a December decision by FERC to allow work to resume on a 17-mile section that was created as a buffer zone to the Jefferson National Forest.
"Mountain Valley acknowledges that project opponents will likely challenge any regulatory action that achieves project completion," Normane's letter stated.
"While we may differ on certain issues, we believe that there is common ground for all stakeholders to agree that at this juncture, the best path forward for environmental protection and affected landowners is for the project to be completed."
In a statement issued the same day, opponent David Sligh of Wild Virginia said that Mountain Valley "continues to desperately search for a way to push this dangerous and ill-conceived project forward."
"This latest attempt must fail, because MVP cannot meet the requirements of the Clean Water Act," he said, "and a more thorough analysis by the Corps and states will prove as much."
For original article, click HERE
---
Regulators deadlock over Mountain Valley stream crossings
January 20, 2021
ROANOKE, Va. (AP) — The Mountain Valley Pipeline is dealing with what opponents of the project say is another serious setback.
The Federal Energy Regulatory Commission deadlocked 2-2 Tuesday on the project's request to bore under streams and wetlands along the pipeline's first 77 miles in West Virginia, the Roanoke Times reported. The tied vote meant the matter was left unresolved.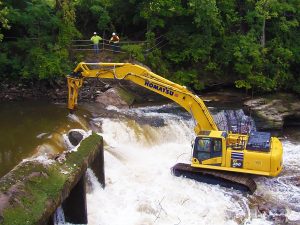 Natalie Cox, a spokeswoman for the joint venture of five energy companies building the pipeline, said FERC could revisit the stream-crossing issue. The developers still plan to have the $6 billion project completed by the end of the year, Cox told the newspaper.
But Gillian Giannetti, a staff attorney for the Natural Resources Defense Council, said the development was a significant setback.
"MVP is in a holding pattern, and there's no clear end in sight," she said.
The project is designed to carry natural gas across about 300 miles of West Virginia and Virginia. A separate expansion project called MVP Southgate has been proposed to run from Virginia into North Carolina.
---
ACT NOW! Virginia DEQ: Comments Sought through March 10, 2021 on Compressor Station for MVP Extension
January 19, 2021 The Virginia Department of Environmental Quality is seeking public comments on a compressor station at the start of a natural gas pipeline in Pittsylvania County.