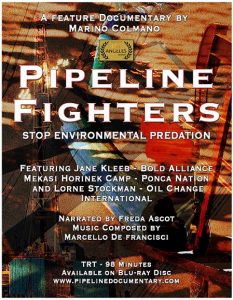 Powerful Video from a Nelson County Virginia Landowner
Richard Averitt, a Nelson County landowner who would be adversely affected by the Atlantic Coast Pipeline.
________________________________________________________________________________________________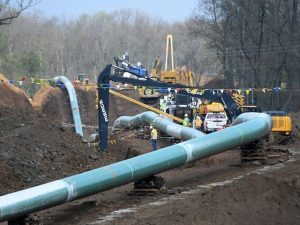 MANSFIELD OH- Judy Handmaker says she has cried over the Rover natural gas pipeline cutting through her family's almost 80 acres of farmland on Ohio 545.  Handmaker, 73, of Louisville, Ky., said her ancestors including Samuel Osbun, who served in both the Revolutionary War and the War of 1812, settled in Richland County after the war, having owned farmland stretching from Richland Shale Road to Franklin-Church Road.  "They came to Ohio because the land is good and rich," she said.
Handmaker said she and her sister, Beth Houston Statzer of Virginia, are very distressed about what has happened to their family farm because of the pipeline.  "We fought it. We hired an attorney to speak for us. I can't begin to tell you how much our family is linked to the area," said Handmaker.  Their property is located next to Dayspring, the county home.
________________________________________________________________________________________________
Motion to Rescind and Revise the DEIS
This serves as notice that a Motion to Rescind and Revise the DEIS has been filed by Friends of Nelson, Wild Virginia, Heartwood and Ernest Reed, intervenors, on Docket#CP15-554-000 et.al.  Appendixes are available on the FERC library site.
2017 03 08 FoN Motion to Rescind or Revise ACP DEIS - FINAL
________________________________________________________________________________________________
The Peoples Hearing
On December 2, We The People  held hearings to investigate the abuses of power and law being inflicted by FERC in communities across America.
The People's Hearing was held at the National Press Club in Washington, DC on December 2, 2016. 63 representatives from 15 states and the District of Columbia came to testify to the abuses of power and law inflicted by the Federal Energy Regulatory Commission. Over 150 people were in attendance of the hearing including reporters and congressional staff members.
We thank the legislators who sent representatives to join us:
Congressman Frank Pallone (Democrat from NJ, Ranking member on the House Committee on Energy and Commerce),

Congressman Morgan Griffith (Republican from Virginia),

Senator Maria Cantwell (Democrat from Washington, Ranking member on the Senate Committee on Energy and Natural Resources)

Senator Bob Casey (Democrat from Pennsylvania).
For more information and videos of hearings, check

HERE
________________________________________________________________________________________________
Residents voice concerns at Atlantic Coast Pipeline meeting in Elkins
ELKINS, W. Va. (WDTV) - A controversial issue that's been going on in our area for sometime now involves the Atlantic Coast Pipeline. The pipeline is a 600-mile long natural gas line that will go through Harrison, Lewis, Upshur, Randolph and Pocahontas counties. Wednesday night, many got to voice their thoughts on the project.
Ever since this has been brought about many have been concerned about the pipeline and its impact on water, safety and property owner's rights. Wednesday's meeting was designed to hear comments and concerns from folks in Randolph county. Many citizens were there voicing their concerns about the environment and the natural water ways of Elkins
"The destruction of the underground karsts, the springs, the water table. The steepness of the pipe. It's a 42 inch pressure pipeline. Elkins Spring is going to be in the evacuation zone and the blasting zone. It's taking out a lot of our friends cabins and homesteads. Just mass destruction to an area and the watershed. Just destroying the underground water tables," said Daron Dean, of the Elkins Spring Resort.
A Dominion representative at the meeting says the pipeline is a good idea.
"The environmental impact study has indicated from the Federal Energy Regulatory Commission that these problems to the pipeline are minimal to the point where it really doesn't expose any real environment significant impact," explained Bob Fulton.
These meetings will continue until April 6th.
More info HERE