Watershed of the year!
Greenbrier River Watershed Association won "Watershed of the Year" and "Easing into Conservation" awards at the Annual Watershed Celebration, sponsored by the WV Watershed Network and held at Canaan Valley Resort! Both awards were focused on the watershed's efforts in obtaining a 250 acre Conservation Easement along the Greenbrier River across from the Spic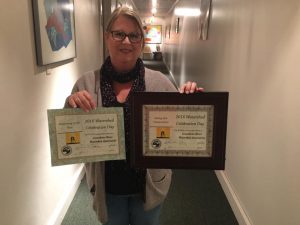 e Run Wilderness. A Conservation Easement protects land from development. Partners in this project include, Alan and Gwen Balogh, GRWA, the WV Outdoor Heritage Fund, Greenbrier Land Conservation Trust, WV Land Trust, Downstream Strategies, the New River Conservancy and the WV College of Law. If anyone would like more information on how to obtain a Conservation Easement on their property, they may call the GRWA at 304-647-4792. Our Coordinator, Jennifer Baker was there to receive the awards on behalf of our organization. Great job and great teamwork!