Meeting at Hillsboro Public Library highlights Watago State Park
Over 40 people bundled into the tiny Hillsboro, WV library in a snowstorm this afternoon to discuss Governor Justice's stripped down proposal to allow commercial logging in Watoga State Park.
We heard and told stories about what Watoga means to the community here; about their love and connection to this park, and about their overwhelming desire to protect this special area from commercial logging.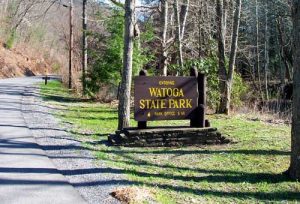 All we have to say is this: We have your back. West Virginia stands with Pocahontas County and with Watoga state park. If the governor gets his hands on Watoga, that puts all of our parks at risk. We won't let that happen.
We've heard from various sources that this logging bill is dead, but we still don't have a public announcement from the administration or the majority party in the legislature. Until we can be absolutely CERTAIN that this proposal is off the table, we need to keep working to ensure that ALL of our parks continue to be protected.
The senate natural resources committee meets on Monday. Between now and then, keep up the pressure on committee chairman, Senator Maynard, to keep sb270 off the agenda and on the rest of the committee to vote NO if it does come up for a vote. Their contact info is in the comments below.
Thank you Hillsboro Public Library, and thank you to everyone who braved the snow to make it there today!
Original post HERE