New challenge to MVP project questions river crossing permit
New challenge to MVP project questions river crossing permit
By Ken Ward Jr. Staff writer,
Federal officials approved the Mountain Valley Pipeline using a streamlined review process that isn't allowed for projects with the kind of time-consuming river crossings involved in construction of the 300-mile natural gas pipeline, lawyers for citizen groups and environmental organizations told a federal appeals court on Tuesday.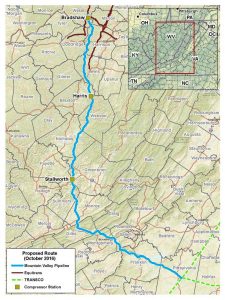 Lawyers for the Sierra Club, the West Virginia Rivers Coalition, the Indian Creek Watershed Association and other groups urged the 4th U.S. Circuit Court of Appeals to suspend the Clean Water Act permit for the entire MVP project until questions about plans for crossings of the Elk, Gauley, Greenbrier and Meadow rivers are resolved.
The U.S. Army Corps of Engineers, which approved the permit, agreed to temporarily block construction of those four river crossings, but would not revoke the entire pipeline permit. The 4th Circuit gave lawyers for the federal agency a week to formally respond. Neither a spokesman for the corps nor a spokeswoman for the pipeline developers responded to requests for comment Tuesday afternoon.
The new legal effort — outlined in a motion filed Tuesday morning — focuses on a river-crossing construction condition that the West Virginia Department of Environmental Protection last year put on the Corps of Engineers' streamlined Clean Water Act permit for pipelines before approving that streamlined permit review for use in the state. Full Story HERE