Preserve Craig Files DC Lawsuit to End Permit
Preserve Craig Files DC Lawsuit to End Permit
WV Judge Blocks Greenbrier River Crossing
The courtroom battles to stop the Mountain Valley Pipeline (FERC) are continuing in several state and federal cases this month. On September 4 Preserve Craig in cooperation with over a dozen other organizations, filed a comprehensive brief with the Fourth Circuit Court of Appeals in DC to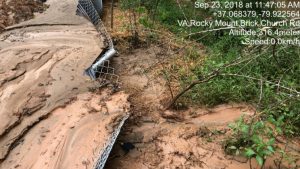 have the primary permit from the Federal Energy Regulatory Commission (FERC) revoked. Last Tuesday in a Hinton, West Virginia court, Judge Irons issued an injunction against MVP crossing the Greenbrier River in Pence Springs, WV. And this week, the Federal Appeals Court in Richmond is hearing two cases against MVP, one an appeal of eminent domain takings, and the other claiming MVP is harming our waters.

The FERC had made it impossible to go to court to revoke the primary certificate because they claimed they were considering Preserve Craig's request for a rehearing. FERC was eventually required to respond and denied the request, allowing us to ask the courts to revoke the MVP permit. The joint filing makes numerous very well-founded claims. Among them is that FERC did not prove that the project was needed or that MVP had the capacity to be granted the right to take private property. It also claims that FERC and MVP failed to adequately analyze numerous impacts to the environment, historic resources, or look at alternatives. The full 118-page Opening Statement can be found on the Preserve Craig Website.
Meanwhile, three Craig County residents are facing alleged trespass charges on the MVP right-of-way. Trial is scheduled for November 20 at the Craig County Courthouse in New Castle. Continue story HERE

FOR DETAILS ON THESE DEVELOPEMTNS AND MANY MORE, PLAN TO STOP BY THE PRESERVE CRAIG BOOTH AT THE FALL FESTIVAL IN NEW CASTLE ON OCTOBER 13, 2018.