MVP Destruction Zone Sign Erected at Pence Springs
10.19.18
Wednesday morning, October 17, 2018, the Summers County Residents Against the Pipeline erected the MVP Destruction Zone Sign and a beautiful Water Flag on the sign at the Pence Sprin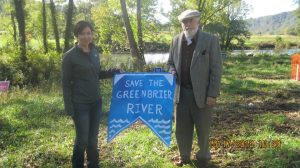 gs River Crossing.
Pictured here is Ashby Berkley, Landowner and Autumn Crowe with WV Rivers Coalition.
Thanks to Howdy Henritz and Jim Clewell for the MVP Destruction Zone sign, Reni Fulton and Mara Robbins for the Water Flag and to Tasha Hiner for her painting on the Water Flag.
Please be sure to attend the Hearing in Summers County Circuit Court on October 23rd, 10 AM and show your support.
Click here for more information about Summers County Residents Against the Pipeline.