Salem, VA Local Protest Bank with ties to MVP Developers
By Brooke Williams, VirginiaFirst.co
Local residents are putting their money where their mouth is. They say they're withdrawing funds from banks with ties to the Mountain Valley Pipeline's developers.
"I'm seriously thinking about moving my money out of them," says Freeda Catchart, a Wells Fargo customer.
The group stood outside Wells Fargo's Salem location to protest the bank's relationship with the MVP developers.
"We don't need everybody doing everybody doing everything perfectly. We need everybody doing something. So I'm going to take a large part of our investment there and move it to a place that is not hurting our community," says Cathcart.
Those gathered hope to appeal to Wells Fargo, but also want to urge others to do their research before deciding where their money goes.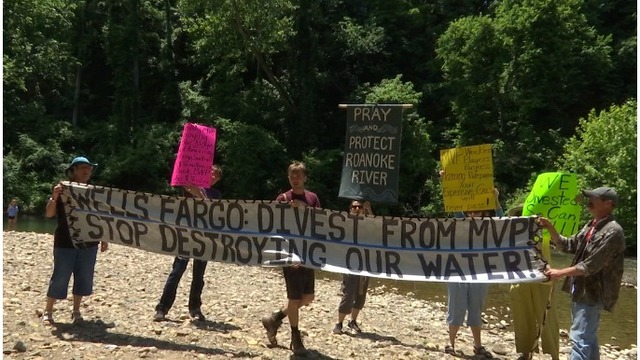 "Our retirement money we have changed from Morgan Stanley to a group called Earth Equity Advisors and they are very much concerned about the environment, and they look at your entire portfolio to make sure nothing is invested in fossil fuel," says activist Anne Lusby-Denham.
In response, Wells Fargo issued the following statement-
"While we have a relationship with the developers, Wells Fargo does not have any funding to the Mountain Valley project. We respect the conversation around conventional energy development — its importance to local economies, its necessity today in our daily lives, concerns about the need to transition to a low-carbon economy, and concerns about the potential impact of energy development on communities. While we will continue to support the responsible development of conventional energy, Wells Fargo is also committed to accelerating the transition to a low-carbon economy. Since 2012, Wells Fargo has invested more than $83 billion in clean technology and other environmentally sustainable businesses. Additionally, we are committed to providing $200 billion in financing between 2018 and 2030 to sustainable businesses."
Those who took part in the protest say finding alternatives to fossil fuels and investing in renewable energy should be a priority.
"We have to get our money free from fossil fuel. It's just imperative for the planet and for future generations," says Lusby-Denham.
The group urges both individuals and financial institutions to invest in socially responsible ways.