---
Earth Day Watershed Celebration a success!
The rain stopped and the skies cleared just in time for our Earth Day Watershed Celebration at Lost World Caverns on Saturday April 22nd. Our afternoon was filled with music, food, & education about our watershed. WVDEP Save Our Streams rep. Callie Sams hosted a macroinvertebrate table, and Kara Grosso with the WV Conservation Agency was present to talk about conservation issues as well.
Through a grant from the Mountain Resource Conservation Development, we hosted a rain barrel workshop. The grant sponsored a free rain barrel and connector kit to those who signed up. Later at 5:00 pm, 5 beautifully painted rain barrels were auctioned via Martha Hilton, auctioneer. Students from Rupert Elementary, Rainelle Elementary, Eastern Greenbrier Middle School and Western Greenbrier Middle School were involved in the painting and decorating. Board member, Autumn Crowe will be visiting the schools soon to talk about rain barrel use for water conservation and pollution control. Three schools kept a rain barrel for their own garden and a sponsorship plaque was likewise auctioned to be imprinted with the donors name.
The entire event began at 2:00 pm, filled with music, food, free cave tours, a fiddler inside the cave and we received lots of sponsorships and silent auction items from local businesses. 5 students from the WV school of Osteopathic medicine came to volunteer as part of their National Day of Service as well. We thank everyone for their contributions! Please visit our Facebook page to stay up to date with our events and volunteer opportunities.
Below: Jeff Myers, board member of the Greenbrier River Watershed Association explains how to connect your rain barrel at our recent Earth Day watershed event at Lost World Caverns.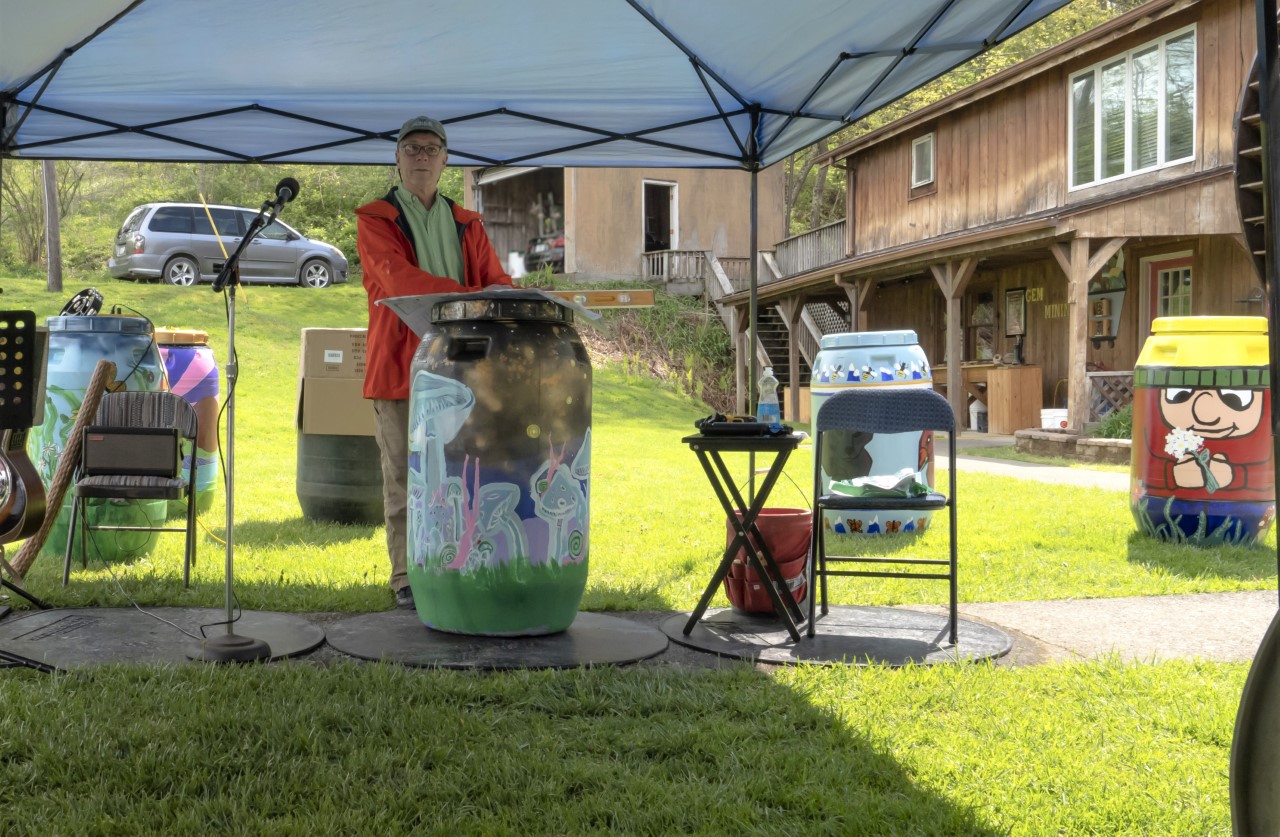 Huge thanks to all our sponsors! We couldn't do the work without you!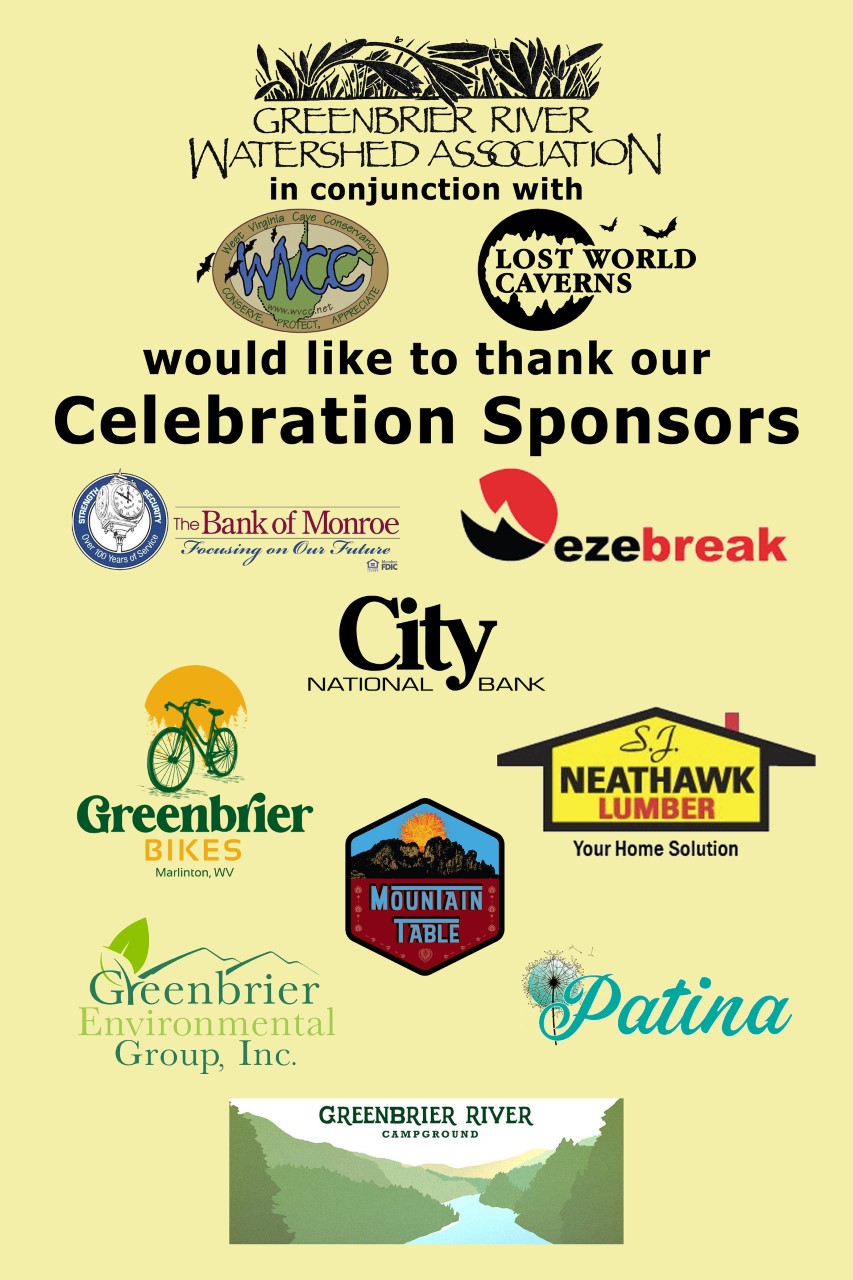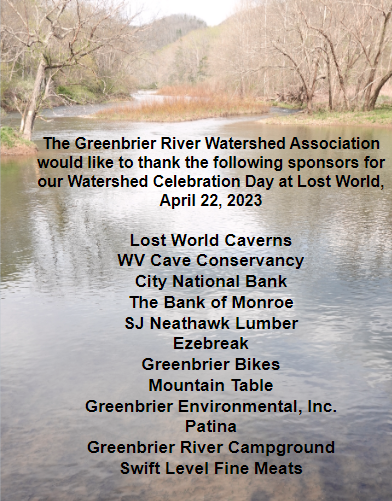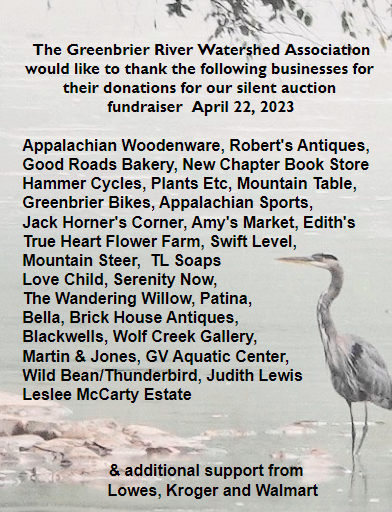 Make it Shine event cleans up!
As if we aren't busy enough! On Sunday April 23rd, John Walkup, President, board members Elizabeth Clark, Laura Izzo, Roger Vannoy, Autumn Leah Crowe (with Ridge) and coordinator Louanne Fatora met at the Caldwell boat launch to continue the annual tradition of "Make It Shine".
We were thrilled to meet up with many other community members who enthusiastically joined us! As you can see, we hauled up lots of tires, metal, cans, bottles, & plastic for disposal. As much as we love getting together and getting out, we wish for a better world where people understand the importance of keeping our watershed clean.
We do this annual clean up for the river, for our children, for the future, for you! If anyone at any time wants to organize a trash pick up event along the river, give us a call at 304-647-4792 and we will help get you supplies and arrange a pick up.

______________________________________________________
Current Newsletters:
June 26, 2023 It's all about the water!

June 12, 2023 MVP gets a free pass. Now what?
May 29, 2023 Manchin's Dirty Deal just got dirtier.

May 15, 2023 Senate Hearing on Permitting Reform

---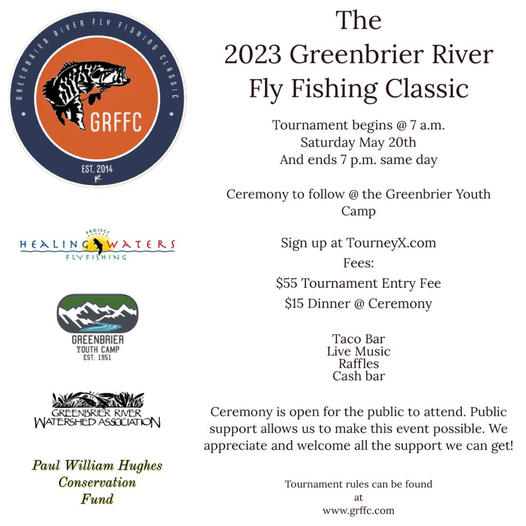 _____________________________________________________________
Greenbrier River Trail to reopen mid-summer
March 24, 2023/Sarah Richardson/Mountain Messenger

Lewisburg City Manager Misty Hill shared some exciting news to Lewisburg City Council this week about the ongoing water pipe relocation work along the Caldwell section of the Greenbrier River Trail.
"The biggest news that I have tonight is to state that we still have some power things to put through, and some final items to address, but we are way ahead of schedule. We have had some phenomenal weather this year," said Hill. "We are going to be able to open the trail in mid-summer. I think that's some exciting news, we are way ahead of schedule."

The original trail reopening date was estimated to be February 2024. Hill also announced that the City opened a parking area at Harper Road earlier this month with a new gravel parking lot for visitors.
While no exact date was given for the earlier reopening date, the City will release further details as the project wraps up over the next few months.
---
Taste of our Town highlights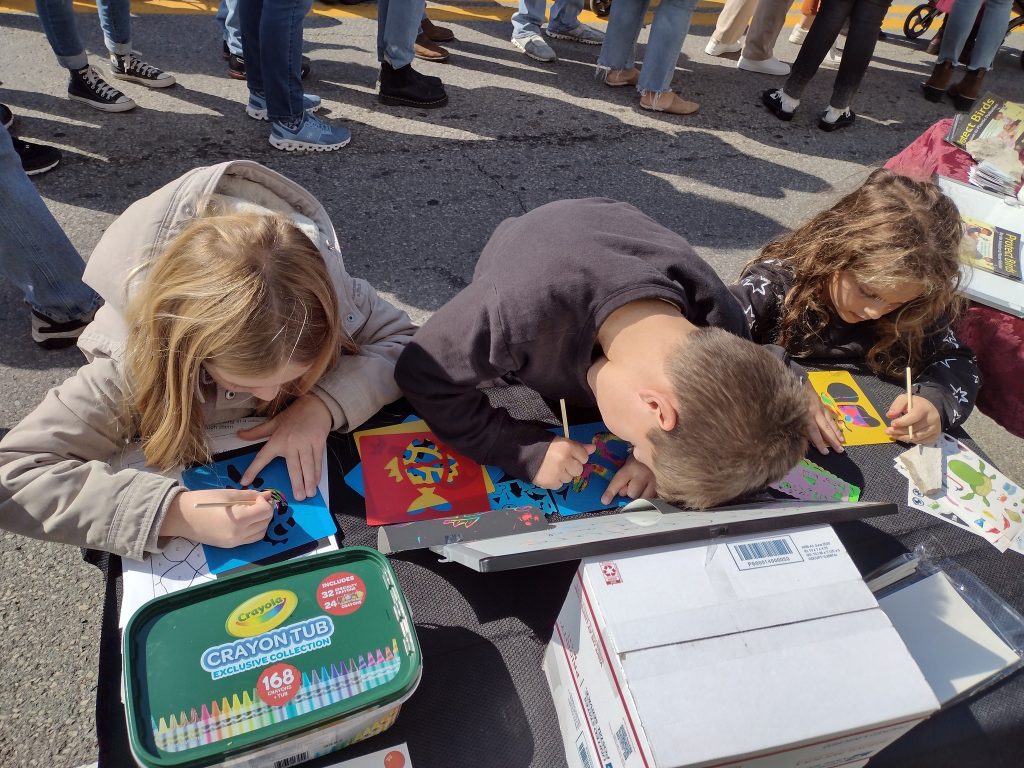 Greenbrier Watershed had a great time last Saturday at TOOT in Lewisburg! Board members contributed cookies and warm apple cider was served non-stop! We engaged in many conversations about the health of our watershed and recruited new volunteers! Kids enjoyed our water creature scratch art boards, learned about recycling and received some stickers.
Hope to see you all again next year!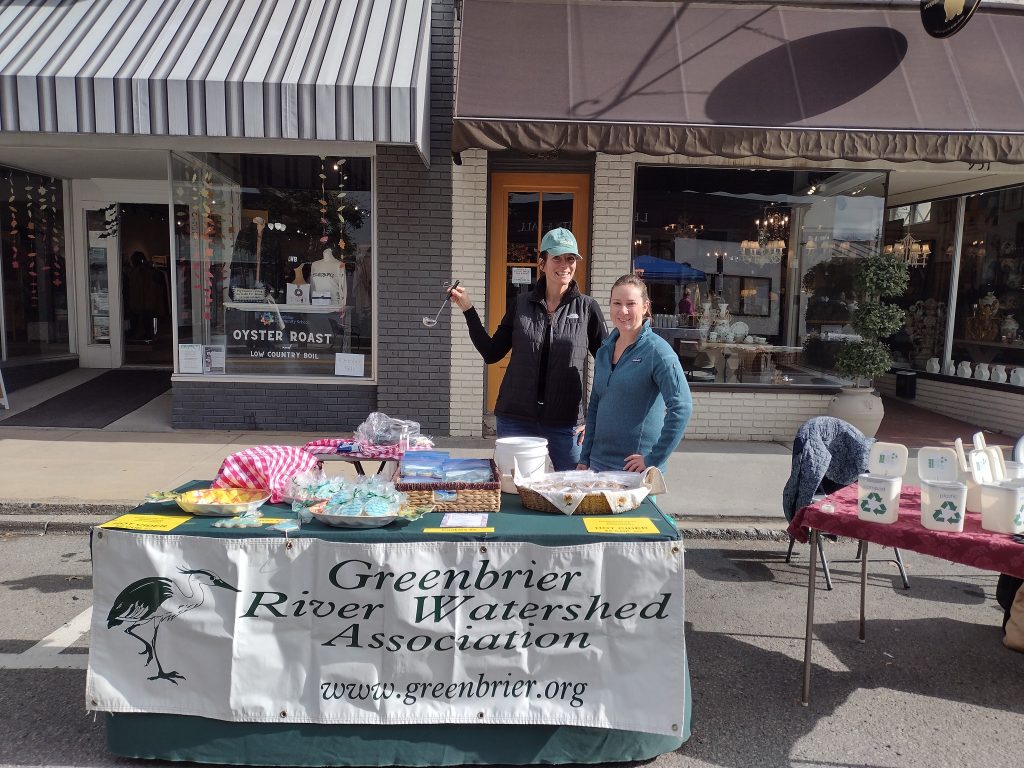 ---
---
New Greenbrier River Signage
Through grant funding, the Greenbrier River Watershed Association (GRWA) has sponsored the fabrication of three informative signs about our watershed. The signs were created by Lens Creek Studios, with two recently installed.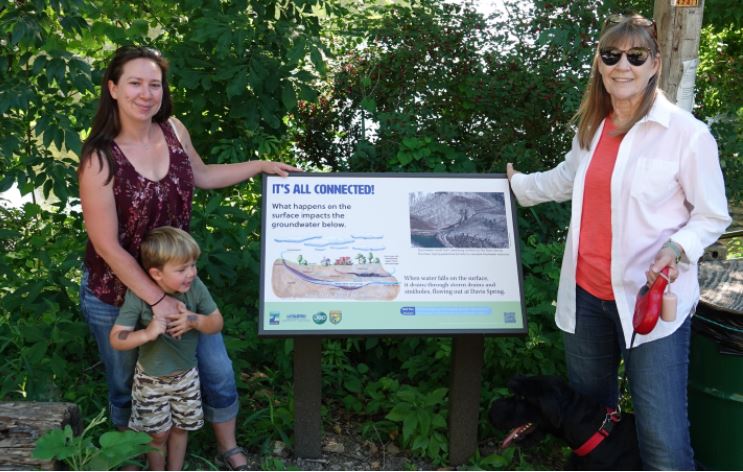 The first sign was installed at the Ronceverte boat launch on River Road and explains the effects of algae in our river system. The GRWA advocated for upgrades to the Ronceverte water plant to reduce algae growth.
The second sign was installed at the Fort Spring boat launch, where a significant large spring flows into the Greenbrier river. When water falls on the surface, it flows through drains and our many sinkholes flowing out at Davis Spring.
The third sign explaining the benefits of wetlands will be installed at a later date in Marlinton. This wetland by the Greenbrier River Trail drains into Knapps creek, the drinking water source for the town of Marlinton.
Signage includes QR codes that link to our website with information on filamentous algae and the Clean Water Act and watersheds. Visit the page HERE
An unveiling of the two installed signs at Ronceverte and Fort Spring will occur on June 4th. Details will be posted in the next newsletter and on our Facebook page.
---
Remembering Leslee McCarty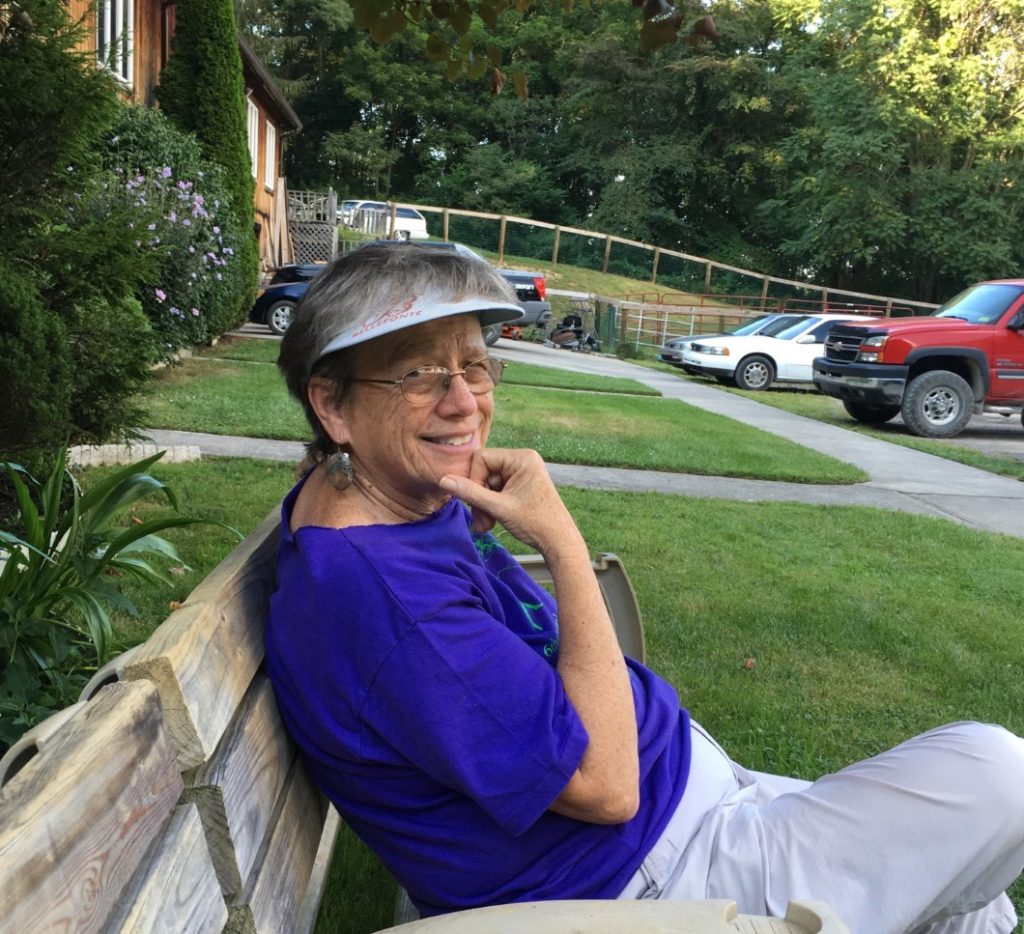 Leslee McCarty, one of our founders and fiercest warriors, passed away on June 29, 2022. Her great love for the Greenbrier River and the trail spawned the Greenbrier River Watershed Association 30 years ago. She recently wrote that she would like to be remembered as a water protector and friend to animals. She was both of those and so much more.
Board members and friends pay tribute:
From Louanne Fatora
Coordinator of the Greenbrier River Watershed Association
29 years ago after moving away, my husband and I wanted to return to WV, to Pocahontas County and look for our own little place on the Greenbrier River. We brought our 4-year-old son and stayed at The Current, Leslee's bed and breakfast on the river at Beard. When we arrived I noticed the cats! the dogs! milling about and she mentioned that she was fostering them for the animal shelter. Kindred spirits! We had a couple late night discussions over a glass of wine about real estate, the local economy, the school system, animal welfare and the newly formed Greenbrier River Watershed Association!
Over the years, we would contact each other on occasion about some animal welfare situations in Pocahontas or Greenbrier Counties. And then about fracking, and then about pipelines. We found our place on the river, and being a part timer, I would join in on any protests or events as I could, always taking my camera. I happened to be here when I got the invite to join a protest in White Sulphur Springs in 2015 when Dick Cheney was visiting the Greenbrier Resort for a business forum. What fun! We were given instructions that we had to walk with our signs the whole time – and could not stop! I wanted to get a good photo of Leslee at the entrance of The Greenbrier so we made a plan. She would walk slowly, and then more slowly as she approached the spot I wanted her in and then make a brief stop. As she came to a very hesitant stop – it just so happened an officer monitoring the event was right behind! He frowned and moved toward Leslee as I gave the signal to hurry up and move – with just enough time to keep from being kicked out!
Over the years I stayed in touch and followed the Greenbrier River Watershed, wishing I was there to do more in person. I got my wish last year by moving back home full time and then becoming the coordinator for the watershed. After a couple board meetings last Fall, with Leslee able to be present, she left to go to Florida. I couldn't fathom that our time was running out. Due to covid, the last couple of years have been tough on non-profits, and ours was no exception. I would text her or call her with questions, lots of them. Me – apologetic that I was having to ask questions and she – seemingly happy to answer them. I can still hear her say, "just don't panic & run, ok ? And then she was gone. And I'm still here.
Sorting through the office there is evidence of long term commitment, deep passion, and a lot of integrity. The Greenbrier River Watershed will stand firm on this foundation and continue to build upon her legacy.
From Autumn Crowe
Program Director, WV Rivers Coalition
Greenbrier River Watershed Association Board Member, current Treasurer
I first met Leslee McCarty at her wedding. But I was just a little toddler then, so I don't really remember her from those early days. I really met her upon moving back to WV in 2015. I was a returning environmentalist trying to re-establish myself where I grew up. She took me under her wind and we soon became long lost friends. The decades between our age didn't matter. We connected over our love for the greenbrier river. She accepted me into the Watershed organization that she helped found and we got to work fighting the pipelines that were threatening our beloved river.
Leslee taught me who's who in the state's environmental movement. She introduced me to all the key players and I attribute landing a position with WV Rivers Coalition in part due to her. I learned so much from working alongside her a fellow water protectors during the past 7 years.
She had such grit and tenacity when it came to protecting our river. She didn't hold back; she would tell it like it was. But she so with grace and humor. She was the whip cracker at the Watershed group. She was like a relentless pit bull and wouldn't let up if she knew it was the right thing to do. Her perseverance paid off. In 2016 GRWA won "Watershed of the Year" for the conservation easement that she shepherded through the process for years. She helped set the stage for water protectors 30 years ago. Now we must all work to carry the torch that she lit for us.
From Mark Blumenstein
One of the co-founders of the Greenbrier River Watershed Association
In 1993 the organization Friends of the Lower Greenbrier river was looking for a way to protect and preserve the wonderful resource, our Greenbrier River from high in Pocahontas county, north of Bartow to the confluence with the New River at Hinton WV. Leslie McCarty was a co-founder of the Greenbrier River Watershed Association,
She, at that time lived almost on the banks of the river down from Hillsboro in a small community near Denmar, WV. Leslie was there for the environmental challenges that would come up in regards to the Greenbrier River. She was always ready to help and guide with issues and statements and she was the forever watchdog for the health and welfare of our water.
Leslee was a committed Activist. Her energy is needed in this time where the environmental clock is ticking in the red zone and our time to reverse the polluting past is waning.
Thanks Leslee for all that you did. We pray for others to be inspired and the pickup the mantle and carry it forward.
From Chris Chanlett
One of the co-founders of the Greenbrier River Watershed Association and current Board Member
Thirty some years ago I attended a meeting in a Lewisburg living room in which Leslee McCarty was the animating force. The Greenbrier River Watershed Association (GRWA) was taking shape, a group dedicated to a river. I do not recall any role models for that formation, but Leslee probably knew some. GRWA certainly became a model for many more.
Other key characters at that founding included Mark Blumenstein, Josh Lipton, and Scott Miller. New groups attract attention early on and often recede unless there's a current threat. Leslee was the one who persisted in organizing come hell or high water or the even more deleterious factors, repetitiveness and boredom.
She connected GRWA to the multiplicity of developments that affect a river. Her southern drawl and bemused commentary no doubt made her a effective environmental lobbyist for several years when she tried to enlighten the WV legislature. She could bore through the regulatory weeds and communicate across political differences. She was a consummate environmental warrior who certainly left our region healthier and more beautiful. Thank you, Leslee!
From Willow Kelly
Greenbrier River Watershed Association Board Member, current Secretary
In the Fall of 2005, my pal Marcy (a GRWA Vista) started inviting me to events and board meetings. Marcy knew my background in environmental activism, and thought I'd appreciate participating with GRWA. It didn't take long before Leslee roped the willing me into joining the board.
Leslee and I immediately bonded over our loves of Turquoise, Critters, and Protecting the Waters. Leslee soon became a role model ; a turning point for me, as I had become disillusioned with "the system" and had felt somewhat defeated in thinking that corporate greed was always going to win over environmental protection, and that the government always sided with corporations.
Leslee proved to me that this didn't have to be true. She showed me what it takes to be an effective activist. Leslee knew who to call, what to write, what wheels to grease and what wheels to let remain squeaking. Leslee taught me about persistence, keeping a cool head, and the all-important skill of Networking. Most importantly, Leslee became my friend who restored my faith in that, together, we can make a difference.
Jen Baker
Former Greenbrier River Watershed Association Coordinator.
Currently serving on the New River Conservancy Board of Directors and Land Protection Committee
It was 2016, at a Greenbrier River Watershed Association board meeting when Leslee looked at me from across the table and said," I want you to be our Coordinator". Two seconds later I said yes! I never thought twice or regretted that decision. Leslee immediately started training me to run the organization. Through her I was afforded the opportunity to further my passion for clean water for my community and beyond. Leslee shared her knowledge, experiences and encouragement to help me rise to be the best I could be. Those 4 years are etched in my brain forever and the experience was life changing.
Someone once told me to Live, Love, Laugh and leave a legacy. Live in such a way that you make yourself proud and others proud of you. Love your human community and all living creatures. Laugh 'cause it's good for the soul. Crying doesn't do you any good. And lastly, leave a legacy. For Leslee, that legacy was being a clean water warrior. Fight for what is just and good. Leave the world a better place.
We must carry on the legacy that Leslee left us. Let us not forget her years of tireless commitment to the State of West Virginia and our Watershed. It's up to us now.
From Lisa Stansell-Galitz
Greenbrier River Watershed Association Newsletter Editor
Leslee was such a mentor and cheerleader to me and so many others throughout the past 20 years. In the midst of so many environmental fights, including and especially the last 6 years, she taught me not to give in to cynicism and despair. To continue to fight against injustice for a planet that cannot fight on its own. That letter writing to officials and representatives, protesting and educating others actually make a difference to this planet. That saving one starfish is a worthy endeavor. Her indefatigable energy, her wry comments about local and national politicians, and her full-throated laugh when she was tickled about anything have been such a wonderful part of my life. I so hope I can do her legacy justice and continue what she started. Sail on, Leslee, thank you for every single thing.
If you'd like to make a contribution to the Watershed in her memory, we will continue what she started ~ HERE
Watershed project earns local youth his Eagle Scout rank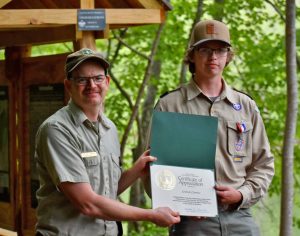 Lewisburg resident Graham Clemons, member of Boy Scout Troop 70, was recently awarded the rank of Eagle Scout. His Eagle Scout project was the design, build, and installation of an informational kiosk and bench at the Anthony Creek trailhead, which provides access to the Big Draft Wilderness on Monongahela National Forest. In the top photo Matt Edwards of the Marlinton-White Sulphur Ranger District presents Graham with a certificate of appreciation for his work on the national forest.
The project included several trips to the site to take measurements and conduct site preparation, meetings with Forest Service staff to discuss project needs, procuring supplies and materials to build the kiosk, and leading his fellow scouts to install the new structure. The new kiosk provides visitors with general information about wilderness as well as a map of the area.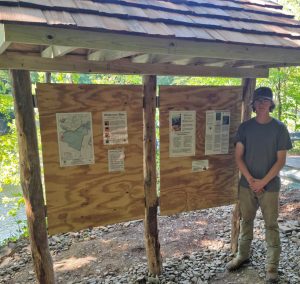 Photos courtesy of La Donna Lokant and Jeanne Clemons. Used by permission.
---
Greenbrier River Boat Launch Locations HERE
FLOOD WATCH 2022 ~ FIND AREA RIVER GAUGES

HERE
---
---
New Year's Message from our Coordinator
I would like to take this opportunity to thank everyone for their warm welcome and support!
Speaking of warm.. it hasn't been very warm here in our Greenbrier River Watershed recently, it's been pretty cold with lots of ice on the river! So this presents a time to stay inside and do some planning for the coming year. We have lots of things in the works, so stay tuned to our newsletter for ongoing news and events.
We are thrilled to have recently received a mini-grant from the Pyles & Turner Foundation in Lewisburg to cover the cost of a new laptop computer.

We will be meeting soon at the White Sulphur Springs Fish Hatchery to draft a plan to restore some Green Floater Mussels in the Greenbrier River Watershed. More information will be coming soon.

We will have a booth at the Capitol on E-Day, January 20th.

West Virginia recently gained it's first officially designated "Dark Sky Park" at Watoga State Park. The Greenbrier River lies adjacent to Watoga State Park and the whole area of the watershed lies in the darkest region in the Mid-Atlantic states.

We will continue to monitor the challenges the Mountain Valley pipeline presents to our watershed and will keep you informed.

We will continue to encourage dialogue with towns and local water treatment sources to ensure clean and continual water to homes.
Finally, thank you very much for the membership donations that have come in recently. We rely on these donations to do our work and sincerely appreciate it!
Louanne Fatora, Coordinator