Explore the Mononghela National Forest May 20-21
Explore the Mononghela National Forest May 20-21
Join us for the Best of Birthplace of Rivers Weekend
May 20-21, 2017 in Slatyfork, WV!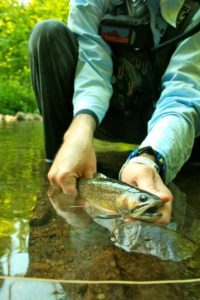 Spend the weekend exploring the Monongahela National Forest with West Virginia Rivers Coalition at the Best of Birthplace of Rivers Weekend, May 20-21.
Saturday, 5/20, features interpretive programs on bears, bats, stream health, and naturally occurring springs that are unique the southern Mon. National Forest.
On Sunday, 5/21, join one of 4 guided field trips exploring the forest. Field trips include: a fly fishing clinic on the Elk River, biking along the Williams River, exploring the Cranberry Glades, and a hiking excursion featuring some of the southern Mon's most iconic trails.
Space is limited, register soon!
More information HERE