Water pollution changes lost when coal bill passed
Water pollution changes lost when coal bill passed
Ken Ward, Jr.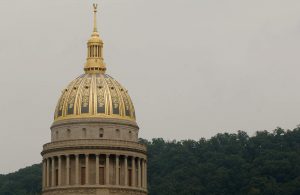 Lawmakers approved controversial language that could increase the amount of toxic chemicals discharged into West Virginia's river and streams, but later removed the language from state law with the passage of a bill aimed at lessening a separate water quality restriction on the coal industry, legislative and administration officials said Monday.
The situation has legislators hoping that Gov. Jim Justice will include the issue on his call for a special session, which is to start Thursday, but has opponents of the water quality changes saying the incident shows there was too much of a rush to get the coal measure, Senate Bill 687, approved late in the regular session.
"It shows the problems of pushing a bill that late in the session without input from all sides," said Angie Rosser, executive director of the West Virginia Rivers Coalition. "Clearly, with [SB] 687, it came later in the session and was rushed through the process so quick that it wasn't given the scrutiny it deserved."
The first piece of legislation, House Bill 2506, gave the West Virginia Manufacturers Association and other industry groups a long-sought victory with language to move the state Department of Environmental Protection to the use of an average stream flow called "harmonic mean" when setting water pollution permit limits. For years, the DEP has used a more protective low-flow stream figure in calculating those limits.
Under the bill, the state's water quality standards — the legal limit for in-stream contamination — won't change. But because the average flow is always higher than the low-flow measure, the change allows the agency to approve increases in the discharges allowed by specific industrial facilities.
The Rivers Coalition, the West Virginia Environmental Council and other citizen groups opposed the bill. The Justice administration supported it, with Commerce Secretary Woody Thrasher speaking in favor of it at a public hearing.
The bill received final approval from lawmakers on March 28, and the governor signed it on April 8.  Story continues HERE