Following Permit Suspension, MVP Barred from All Water Crossings
A major natural gas pipeline under construction in West Virginia and Virginia cannot continue construction under streams, rivers and wetlands across its entire 303-mile route, following the decision late last week by a federal agency.
In a letter sent Friday, the U.S. Army Corps of Engineers' Pittsburgh District told Mountain Valley Pipeline officials they were suspending the project's water crossings permit, also known as the Nationwide Permit 12, for Wetzel and Harrison counties.
The decision marks the third suspension or invalidation of the project's water crossings permits. Earlier this month, a federal court threw out the Mountain Valley Pipeline's water crossings permit issued by the Army Corps of Engineers' Huntington District, which covered pipeline construction through much of West Virginia.
Three days later, the Army Corps' Norfolk District in Virginia suspended all water crossings there.
"Friday's suspension makes clear yet again that the permits hastily given to the fracked-gas Mountain Valley Pipeline don't stand up to scrutiny," said Anne Havemann, general counsel at Chesapeake Climate Action Network, in a statement. "Key permits for the Mountain Valley Pipeline have been thrown out again and again, confirming that this pipeline — and the similarly destructive Atlantic Coast Pipeline — is too dangerous to ever be built."
A coalition of environmental groups that oppose the pipeline have asked federal regulators at the Federal Energy Regulatory Commission to issue a full stop-work order for all pipeline construction. They argue the invalidation of the Army Corps' water crossings permit means the project lacks full approvals and should be temporarily stopped.
Mountain Valley Pipeline spokeswoman Natalie Cox said in a statement the project expects to receive a new or resissued water crossings permit in early 2019. After that happens, she said the pipeline expects the two suspended permits in West Virginia and Virginia to be reinstated.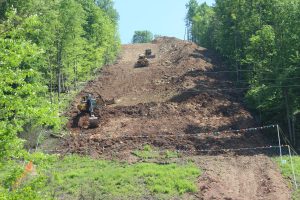 Until then, Cox said the pipeline will continue other construction and does not expect the lack of water crossings to affect the pipeline's projected in-service date of late 2019.
The Army Corps estimates the Mountain Valley Pipeline will be constructed under streams, rivers or wetlands 1,146 times, inclduing 59 stream crossings and 62 wetland crossings in Wetzel and Harrison counties.