Pipeline protest in Lindside, WV stops work for 10 hours
LINDSIDE, WV (WVNS)
A group of protestors gathered in Monroe County on Monday, Nov. 19, 2018. Word came in during the morning hours about a group of people who are against the construction of the Mountain Valley Pipeline were set up in Lindside, WV.
The protesters assembled in the parking lot of Lindside Methodist Church when law enforcement officers came to disperse them. The protestors told 59News an elder at the church issued a complaint, but the group told officials they had permission to be there. There is no word on who had given them permission.
One man climbed on top of a boom tractor with a sign which reads "Stop MVP, No Piplines on Stolen Land." That action caused work on the pipeline to be stopped until the man could be removed from the equipment.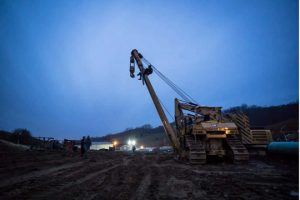 "Who are you responsible to?" was the question asked by the protester in a releaser from the group Appalachians Against Pipelines. "I'm here with the people that don't vote, the ones without IDs. The little birds and deer and flowers and stars, the dormant seeds and ancestors. We have always been here, We will always be here."
State Troopers were working to get the man off the equipment at around 11:45 a.m. As of 5 p.m., the protestor who was locked to the boom tractor was arrested. Appalachians Against Pipelines said he stopped work for 10 hours.