Are pipeline companies buying justice?
Mike Soraghan, E&E News reporter; Published: Monday, January 4, 2021
The officers who cuffed and arrested Cindy Spoon wore badges and gun belts. At least one wore a ball cap marked "POLICE." But these weren't traditional beat cops. They were Louisiana state probation and parole officers.
Just as importantly, they were in the pay of Energy Transfer LP, the company building the Bayou Bridge pipeline, the project Spoon was protesting.
Spoon paddled through the Atchafalaya Basin to a work site in a canoe that day — Aug. 9, 2018 — possibly to put herself in the way of construction. She believed she'd found a way to do that while staying within the law — by staying on the water.
The officers arrested her anyway, along with two fellow protesters. In a lawsuit, Spoon says the officers were allegedly egged on to grab her out of her canoe by company officials who appeared to be giving orders.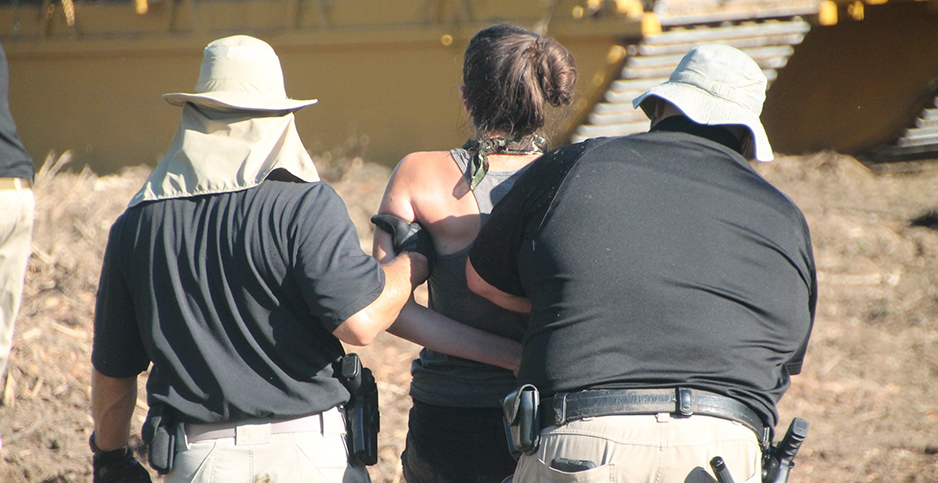 Attorneys for the officers say the protesters were arrested for breaking the law. Prosecutors don't seem so sure. They've never pursued charges, raising questions about whether police being paid by a private company can navigate fairly the fraught politics of environmental protests.
Across the country, protesters and their attorneys are accusing police of siding with pipeline builders against them. They say they've been arrested unjustly, manhandled and bullied by armed officers sworn to protect the public but paid by private interests. And they say hiring the officers amounts to multibillion-dollar companies buying justice for themselves.
"Law enforcement should not be for sale or for rent," said Jim Craig, director of the Louisiana office of the MacArthur Justice Center, which is suing the pipeline company and others on behalf of Spoon and her colleagues. The officers, he said, "were essentially doing the bidding of these private companies."
The police agencies involved say their officers were simply enforcing the law, and it doesn't make any difference who was paying them.
"Our officers have the ability to work overtime," said Ken Pastorick, spokesman for the Louisiana Department of Public Safety and Corrections, which includes the probation and parole office. "They have the ability to enforce the law."
Pipeline developers and security companies say it is environmental activists and protesters who have been pushing boundaries and crossing lines. They say they've had to step up security because of civil disobedience, threats and sabotage.
"If pipeline protesters are engaged in peaceful protests, then no one has anything to worry about," said John Stoody, vice president of government and public relations at the Association of Oil Pipe Lines.