Jardin by the River springs up on Ronceverte's Island Park
By Tina Alvey; Register Herald
In today's language lesson, we learn that the word "jardin" is French for "garden," and "ronceverte" is the French word for "greenbrier."
Thus, it is no coincidence that Gateway Industries chose "Jardin by the River" as the moniker for its latest Greenbrier County worker training opportunity in the city of Ronceverte's Island Park.
Constructed on the site long occupied by a municipal swimming pool and, more recently, by a community garden, the Jardin by the River opened only a few months ago, but already has produced vegetables for consumption by Gateway's workforce, as well as a profusion of bright flowers destined to be dried and offered for sale in the adjacent gift shop.
The central portion of the Jardin is atop the concrete basin that once held the town's public pool. Whimsical pool-related inscriptions like "No running" and "No diving" rim the sidewalk that leads around the garden plot. Continuing the theme is a tall sign planted in the midst of a sea of waist-high flowers, cautioning "No lifeguard on duty."
Gateway Industries is a private nonprofit community rehabilitation program providing employment and vocational services to people who have physical, cognitive and/or psychiatric disabilities. The program's reach extends throughout the tri-county area of Greenbrier, Monroe and Pocahontas.
According to executive director Phyllis F. Cantrell, Gateway has some 50 employees, at least 75 percent of whom have disabilities.
As the nonprofit's most recent program, Jardin by the River has drawn enthusiastic participation by several of Gateway's employees, Cantrell noted.
"They love it," she said. "It's therapeutic. They plant, water and harvest the vegetables and flowers."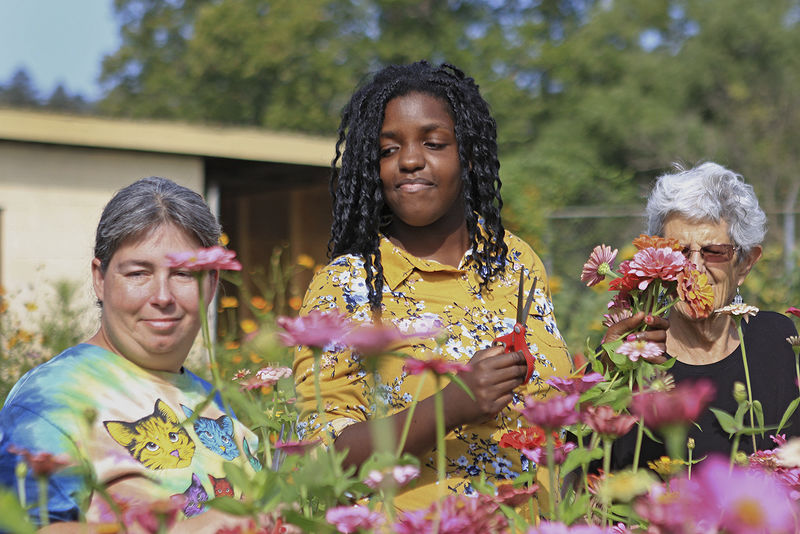 Sitting on a bench overlooking a ring of dozens of 20-foot-tall sunflowers nodding in the breeze, Cantrell said, "It warms my heart to see what's here."
She said while the primary purpose of the garden is its use as a training facility, Gateway also hopes to rent out the lush fenced enclosure for parties and receptions.
Cantrell would also like to find a beekeeper willing to set up in the facility.
Largely funded by grants, the garden has a high tunnel in place to allow year-round controlled-temperature growing. Lavender is flourishing there currently, and plans call for fall and winter plantings to follow soon.
Cantrell pointed out that her late cousin Doug Hylton, a local grant consultant who was quite dedicated to Ronceverte, was responsible for getting the funding for the high tunnel when the city used the property as a community garden. His work boots — now filled with plants — are on permanent display in the Jardin's gift shop.
Like the name of the facility, the gift shop also has a French flavor, thanks to such decorative touches as framed prints and other artwork depicting the iconic Eiffel Tower in Paris, along with a weathered fireplace mantel and various pieces of crockery displaying plants and dried arrangements for sale.
The shop opened for business this weekend. Hours and days of operation are 8 a.m. to 4 p.m. Thursday through Saturday.
"But people can stop by any time the doors are open," Cantrell added, noting special tours of the Jardin are available upon request by calling Gateway's office at 304-645-3165.
Gateway's website offers additional information about the nonprofit's programs.
"For the majority of Gateway's program participants, it is so much more than a rehabilitation program or workplace," a vision statement on the website notes. "Gateway provides an opportunity to make friends, feel the safety of being in a caring and supportive environment, and often restores their personal dignity through meaningful work experiences and trusting relationships. Gateway represents hope for the many individuals who find their way through our doors and become a part of the Gateway family."
For full story and video click HERE
For more information about the nonprofit and its programs, visit gatewayindustrieswv.org.